Fresh Pasta Salad with Sweet Onion Vinaigrette
This colorful salad is perfect for lunch or a weekend picnic. Canola oil's neutral taste lets the other ingredients' summery flavors shine.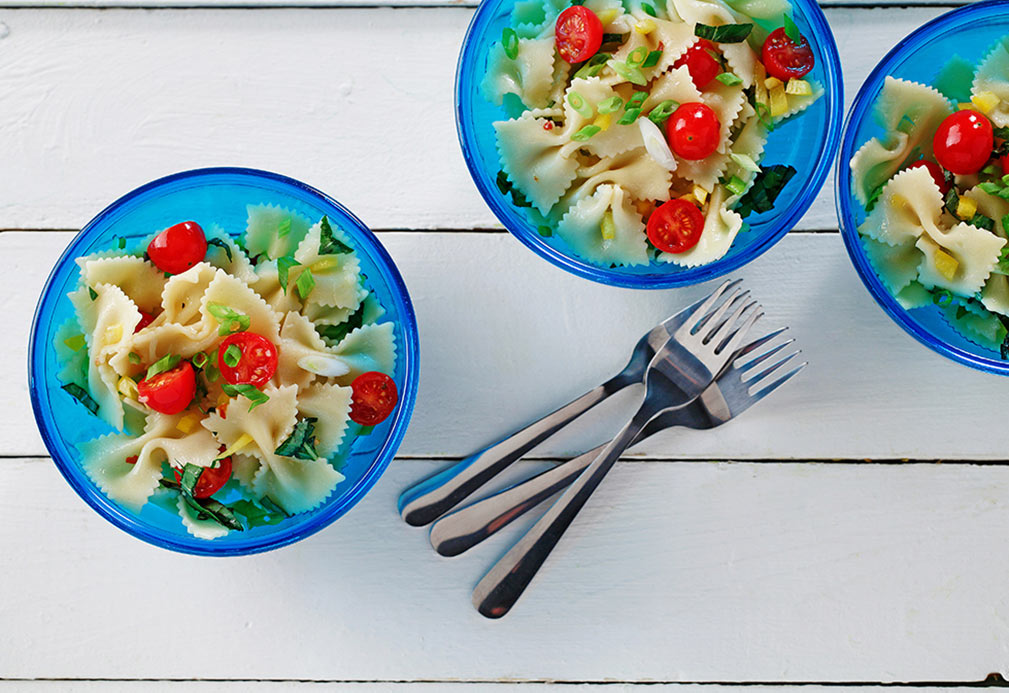 Ingredients
3/4 lb bow tie pasta 350 g (about 4 1/2 cups or 1.25 L)
Vinaigrette
1/4 cup rice vinegar 60 mL
1/2 cup canola oil 125 mL
1 Tbsp low-sodium soy sauce 15 mL
2 tsp brown sugar 10 mL
1/2 tsp salt 2 mL
1/2 tsp red pepper flakes 2 mL
Salad
15 cherry tomatoes, cut in half
1 yellow pepper, finely chopped
1/2 cup fresh basil leaves, thinly sliced (chiffonade-style*) 125 mL
1/4 cup thinly sliced green onion 60 mL
Instructions
1. Cook pasta according to package instructions. Once cooked, drain and cool.
2. To prepare vinaigrette: In bowl, whisk all ingredients until combined.
3. In serving bowl, combine pasta, tomatoes, pepper and basil. Add vinaigrette. Stir to combine. Garnish with green onion.
Tip: To chiffonade herbs such as basil or mint, stack about eight leaves together and then roll them lengthwise into a cigar shape. Thinly slice across the bundle to make thin ribbons.
Yield
8 servings
serving size
1 cup (250 mL)
nutritional analysis
Per Serving
Calories
300
Total Fat
15 g
Saturated Fat
1 g
Cholesterol
0 mg
Carbohydrates
36 g
Fiber
5 g
Sugars
5 g
Protein
6 g
Sodium
60 mg
Potassium
208 mg