Garlic Tostones (Fried Green Plantains)
Canola oil is a great choice for high heat cooking. Canola oil has one of the highest smoke points of all commonly used vegetable oils.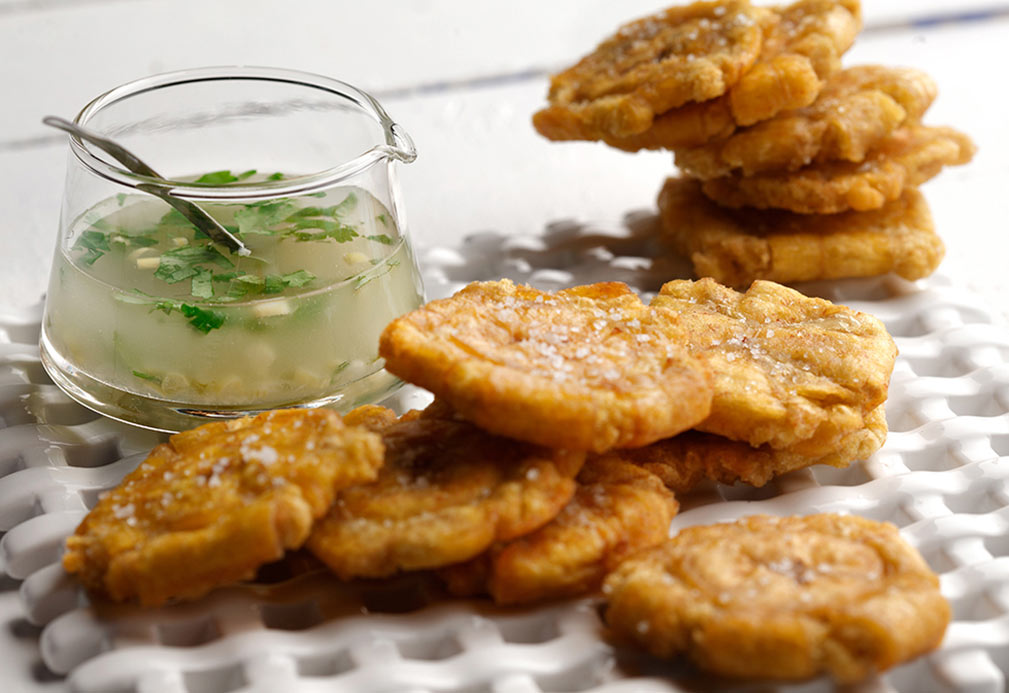 Ingredients
Tostones
3 cups water 750 mL
1 garlic clove, peeled and crushed (optional)
1 Tbsp salt (plus more to season) 15 mL
3 green plantains, peeled, cut into 1-inch thick slices
3 to 4 cups canola oil (enough to fill pan about 1 inch deep) 750 mL to 1 L
Dip for Tostones
1/3 cup canola oil 75 mL
2 Tbsp vinegar 30 mL
1 Tbsp lime juice 15 mL
1 clove garlic, minced
1/4 tsp salt 1 mL
2 green onions, finely chopped
1 Tbsp chopped cilantro 15 mL
Instructions
1. In large bowl, place water, garlic and salt. Add plantain slices; soak 15 minutes. Drain well on paper towels. Reserve seasoned water. Preheat canola oil to frying temperature of 350 °F (180 °C).
2. First Fry: Fry plantain slices for 7 to 8 minutes until tender (do not brown). Remove with slotted spoon; drain well on paper towels. Using a tostonera (plantain press), broad side of chef's knife, small plate or small cutting board, smash each fried plantain slice. (At this point, you can freeze tostones to fry and enjoy later.) Dip in salted garlic water again and remove immediately. Drain well on paper towels.
3. Second Fry: Reheat oil to 375 °F (190 °C). Fry tostones 3 to 4 minutes turning once or until crisp golden brown. Remove with slotted spoon. Drain on paper towels. Season with salt to taste and serve with dip.
Tip: For best results, choose hard green plantains. To peel plantains, cut off ends and make about 3 to 4 cuts lengthwise around plantain. Place plantain under running tap water and peel away strips with paring knife.
Dip for Tostones:
1. Combine all ingredients and mix well.
Yield
24 tostones and 1/2 cup (125 mL) sauce
serving size
1 tostone
nutritional analysis
Per Serving
Calories
170
Total Fat
10 g
Saturated Fat
1.5 g
Cholesterol
20 mg
Carbohydrates
15 g
Fiber
<1 g
Protein
5 g
Sodium
190 mg