Grilled Salmon with Dijon Raspberry Vinaigrette
Raspberries and Dijon mustard make a unique combination of sweet and savory, which is perfect for grilled salmon.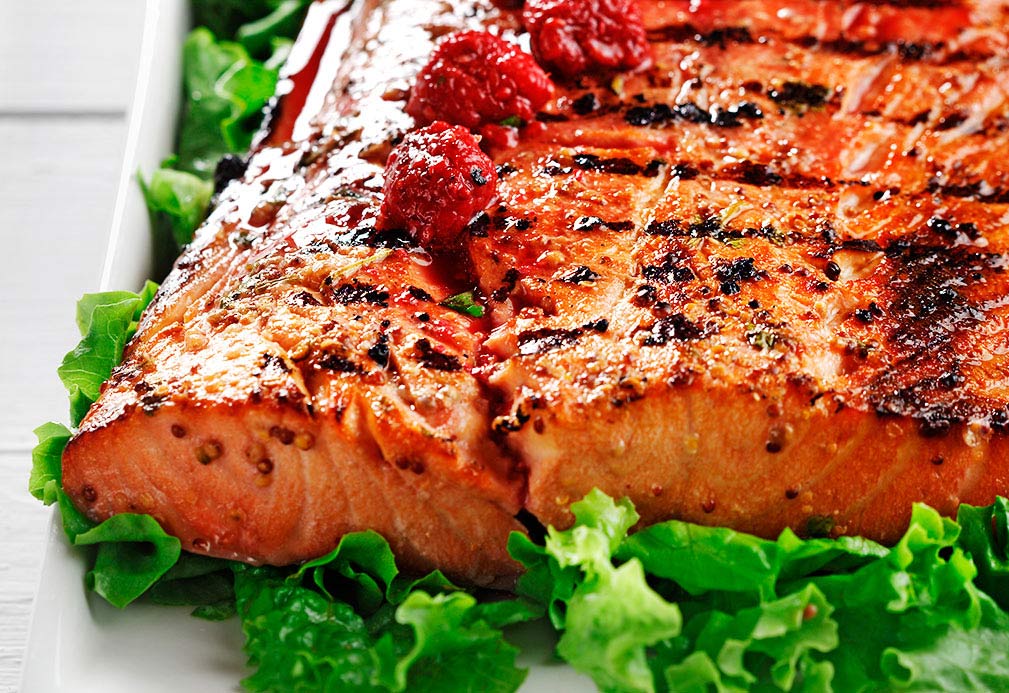 Ingredients
Dijon-Raspberry Vinaigrette
1 Tbsp canola oil 15 mL
1/2 cup black currant or grape juice concentrate 125 mL
1/2 cup chopped fresh cilantro 125 mL
1/4 cup grainy Dijon mustard 60 mL
1/4 cup fresh lime juice 60 mL
Assembly
1 salmon fillet, about 13 oz or 370 g
1 head dark green leaf lettuce
3 cups frozen raspberries, thawed 750 mL
Instructions
1. In small bowl, whisk together vinaigrette ingredients. Reserve 1/2 cup (125 mL) and pour remaining 1 cup (250 mL) into resealable plastic bag. Add salmon to bag, seal and place in refrigerator. Marinate up to 30 minutes.
2. Wash and dry lettuce. Set aside.
3. Preheat indoor grill pan or outdoor barbecue to medium heat. Remove salmon from plastic bag and discard marinade. Grill salmon 5-10 minutes or until cooked through, turning once.
4. Mix together reserved dressing with 2 cups (500 mL) thawed raspberries. Set aside.
5. Chop lettuce and divide equally between four plates, about 1 1/2 cups  (375 mL) per plate.
6. Divide cooked salmon into four equal pieces and place each piece on top of lettuce. Spoon 1/4 of raspberry mixture over salmon. Garnish with extra raspberries and serve.
Yield
4 servings
serving size
1 piece salmon, 1 1/2 cups (375 mL) lettuce, 1 Tbsp (15 mL) vinaigrette
nutritional analysis
Per Serving
Calories
175
Total Fat
3.5 g
Saturated Fat
0.5 g
Cholesterol
50 mg
Carbohydrates
16 g
Fiber
5 g
Protein
20 g
Sodium
130 mg