Harvest Bruschetta Pasta
This pasta dish makes a great " celebration of the harvest" when the fresh tomatoes and peppers finally come in. Canola oil, with its mild taste and light texture, makes a nice light sauce while allowing all of the flavors to come through. This recipe is perfect as a side dish for a late summer barbecue, or makes an excellent vegetarian main course when accompanied by some crusty bread.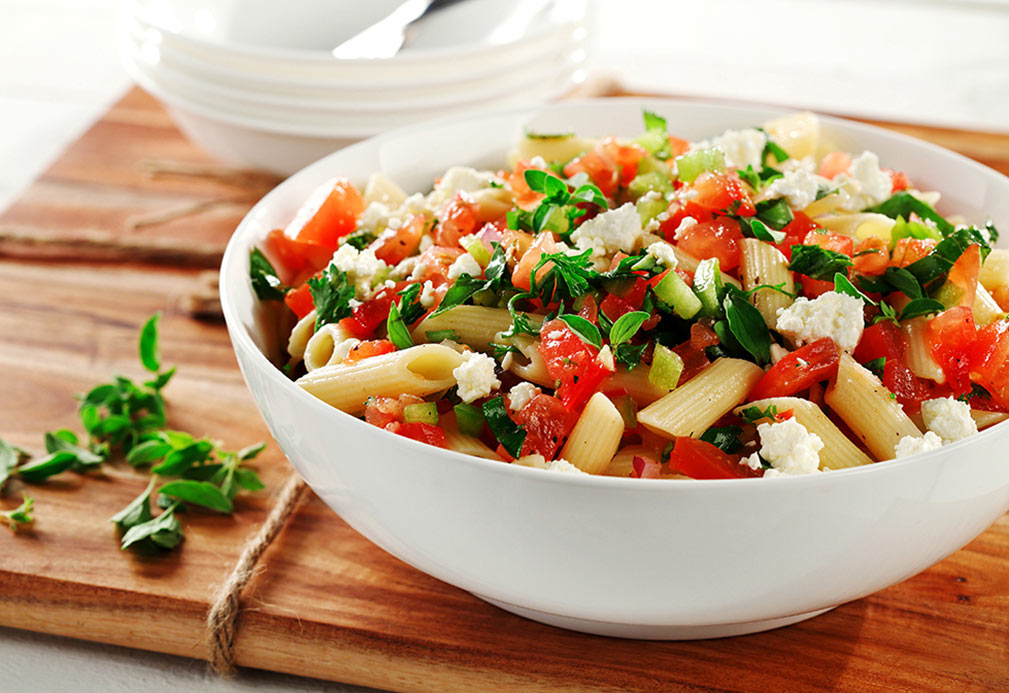 Ingredients
9 tomatoes
1/4 cup canola oil 60 mL
3 cloves crushed garlic
1 chopped green pepper
1/2 cup chopped red onion 125 mL
1/2 cup fresh chopped basil 125 mL
1/4 cup fresh chopped oregano 60 mL
1/4 cup fresh chopped parsley 60 mL
1 tsp salt 5 mL
1 lb penne noodles 500g
1 cup feta cheese, crumbled 250 mL
salt and pepper to taste
Instructions
1. Slice tomatoes in half, squeeze out all the juice and seeds. Chop tomatoes and place in large bowl. Stir in canola oil and garlic. Add green pepper, onion, basil, oregano and parsley to tomato mixture.
2. In a pot add 1 tsp (5 mL) salt to pasta water. Cook pasta, drain and turn into tomato mixture. Add cheese and toss until evenly distributed. Season with salt and pepper to taste. Serve immediately.
Yield
6 servings
serving size
nutritional analysis
Per Serving
Calories
495
Total Fat
15 g
Saturated Fat
3 g
Cholesterol
10 mg
Carbohydrates
74 g
Fiber
7 g
Protein
18 g
Sodium
500 mg