Hoisin Whiskey Glazed Meatballs
Hoisin sauce, also called Chinese barbecue sauce, adds a lot of flavor and helps to thicken this Asian-inspired glaze.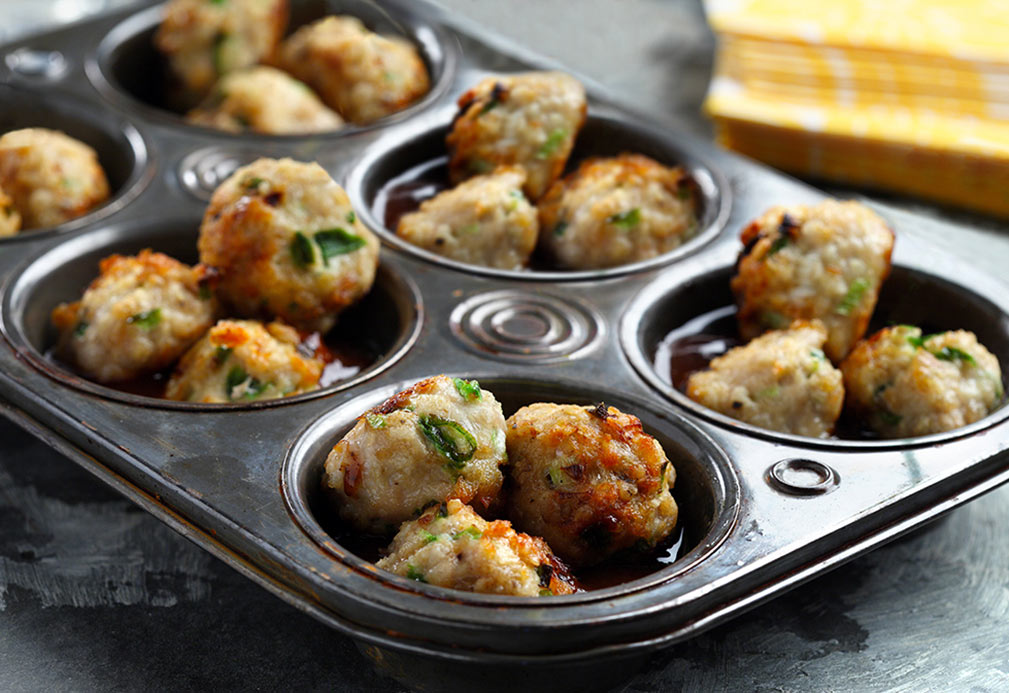 Ingredients
8 oz ground turkey 250 g
1/3 cup quick cooking oats 75 mL
1/3 cup finely chopped green onion (green and white parts) 75 mL
1 medium jalapeno chili pepper, finely chopped (with seeds)
2 egg whites
1/4 tsp coarsely ground black pepper 1 mL
2 Tbsp canola oil 30 mL
Glaze
2 Tbsp hoisin sauce 30 mL
2 Tbsp Bourbon or Canadian whiskey 30 mL
2 tsp packed brown sugar substitute blend 10 mL
Instructions
1. In medium bowl, combine turkey, oats, green onion, chili pepper, egg whites, pepper and 1 Tbsp (15 mL) of canola oil and shape into 24 small meatballs (about 1 Tbsp/15 mL each).
2. Heat 1 Tbsp (15 mL) canola oil in large, nonstick skillet over medium heat. Cook meatballs 6 minutes or until no longer pink in center, turning frequently.
3. Meanwhile, in small bowl, stir together hoisin sauce, bourbon and sugar substitute.
4. Pour hoisin mixture over meatballs in skillet and cook 15 seconds, stirring gently until well coated. Serve with wooden picks.
Cook's note: For better control, use two utensils, such as a fork and a spoon, to turn the meatballs easily.
Yield
6 servings
serving size
4 meatballs
nutritional analysis
Per Serving
Calories
150
Total Fat
6 g
Saturated Fat
0 g
Cholesterol
15 mg
Carbohydrates
11 g
Fiber
1 g
Sugars
6 g
Protein
12 g
Sodium
125 mg
Potassium
36 mg