Indonesian Tofu Stew with Spring Vegetables
With a light coconut lime flavor, this recipe features green beans, bell peppers and zucchini. Other vegetables such as spinach, mushrooms, or cauliflower could also be used.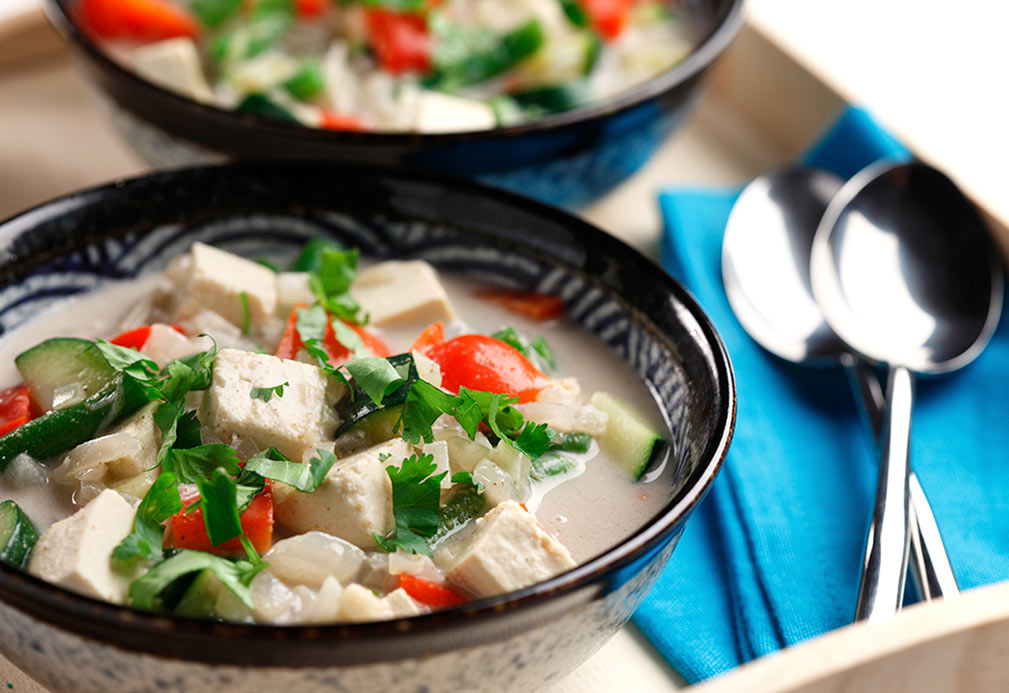 Ingredients
1 Tbsp freshly grated ginger 15 mL
juice of one medium sized lime
1 1/2 Tbsp canola oil, divided 20 mL
1 (12 oz / 350 g) block of firm or extra firm tofu, diced into cubes
1 large onion, diced
2 cloves garlic, minced
1 tsp ground cumin 5 mL
1 tsp ground coriander 5 mL
1/4 tsp ground cloves 1 mL
1 cup sodium-reduced vegetable or chicken broth 250 mL
1 cup light coconut milk 250 mL
2 cups green beans, cut in 2 inch (5 cm) pieces 500 mL
1 red bell pepper, diced
1 medium zucchini, diced
2 Tbsp fresh cilantro 30 mL
Instructions
1. In a bowl, marinate tofu with the ginger, lime juice and 1/2 Tbsp (7 mL) canola oil. Toss well to coat. This can be done about 30 minutes ahead of time and up to overnight in the refrigerator.
2. In a large saucepan, no lid required heat remaining 1 Tbsp (15 mL) canola oil. Add onion and cook for about 6 minutes or until softened and slightly browned. Add garlic, cumin, coriander and cloves and stir for 2 minutes.
3. To saucepan, add stock and coconut milk. Simmer, uncovered, for about 10 minutes until slightly thickened.
4. Add green beans, bell pepper and zucchini and cook for about 10 minutes more or until vegetables are tender. Add marinated tofu and cook an additional 5 minutes. Garnish with cilantro. Serve over steamed brown rice or quinoa, if desired.
Yield
8 servings
serving size
1 cup (250 mL)
nutritional analysis
Per Serving
Calories
100
Total Fat
7 g
Saturated Fat
2 g
Cholesterol
0 mg
Carbohydrates
6 g
Fiber
1 g
Sugars
2 g
Protein
4 g
Sodium
25 mg
Potassium
83 mg