Jalapeno Corn Muffins
Love these as part of a Mexican menu, and again for a quick snack on-the-go!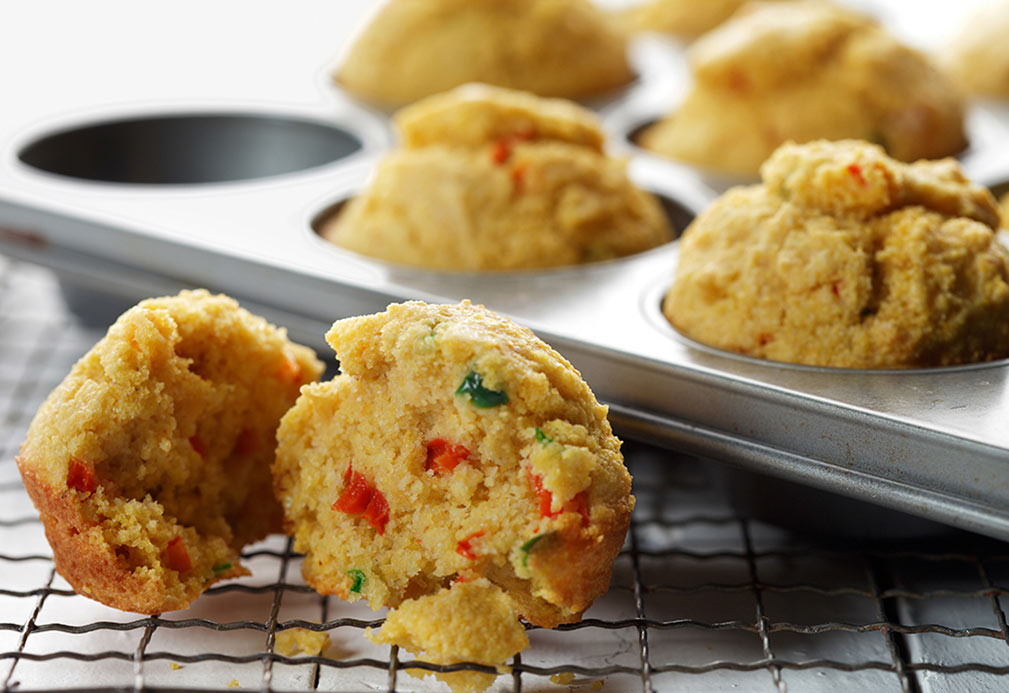 Ingredients
1/2 cup cornmeal 125 mL
1/3 cup skim milk 75 mL
1/2 cup all-purpose flour 125 mL
1/4 cup red pepper, finely chopped 60 mL
2 Tbsp fresh jalapeno pepper, finely chopped 30 mL
1 1/2 tsp baking powder 7 mL
1/4 tsp garlic powder 1 mL
1/4 tsp salt 1 mL
1 egg, beaten
1 Tbsp canola oil 15 mL
paprika (optional)
Instructions
1. Preheat oven to 425 °F (220 °C).
2. In medium bowl, combine cornmeal and milk and let stand for 5 to 10 minutes. Add flour, red pepper, jalapeno pepper, baking powder, garlic powder and salt to cornmeal and milk, and stir well.  Add egg and canola oil, stirring until just moistened.
3. Spoon into non-stick muffin tins, filling 2/3 full. Sprinkle with paprika. Bake for 10 to 15 minutes, or until lightly browned.
Yield
12 muffins
serving size
1 muffin
nutritional analysis
Per Serving
Calories
60
Total Fat
1.5 g
Saturated Fat
0 g
Cholesterol
20 mg
Carbohydrates
10 g
Fiber
0 g
Protein
2 g
Sodium
110 mg