Lamb with Lemon Rosemary Cucumbers
Cut your work load in the kitchen by making one flavor base and using it two ways! In this recipe, the herb mixture is used in both the lamb marinade and cucumber dressing! Canola oil works two ways here, too, as a mild-tasting backdrop to the herbs and as a heat-tolerant cooking oil for roasting the lamb.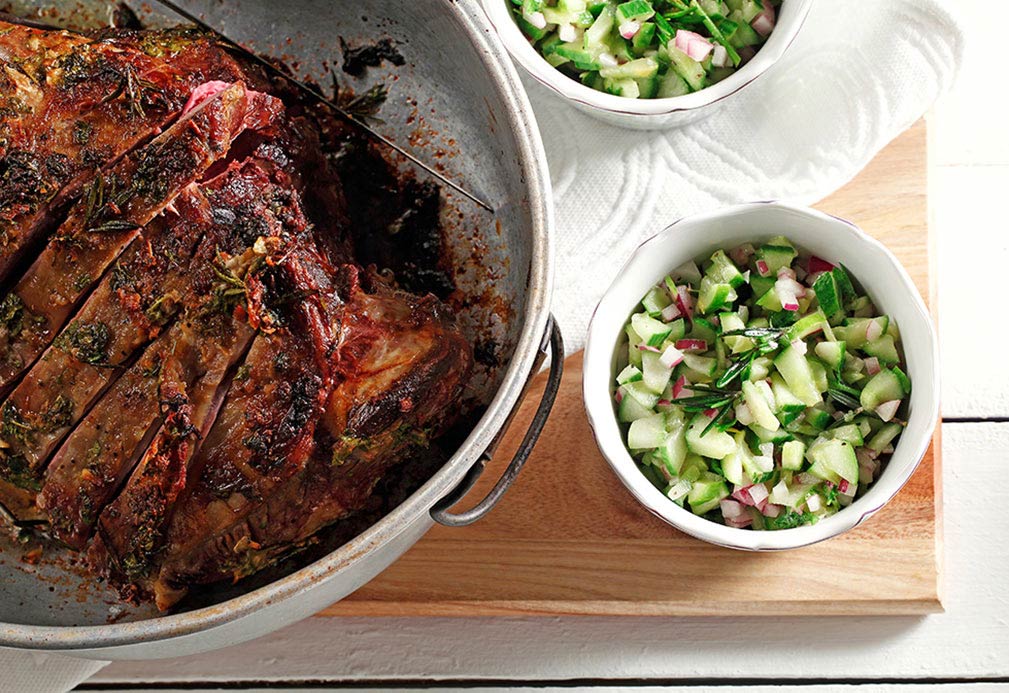 Ingredients
2/3 cup chopped Italian parsley 150 mL
1/4 cup chopped fresh rosemary 60 mL
2 Tbsp grated lemon zest 30 mL
1/3 cup fresh lemon juice 75 mL
1/4 cup canola oil 60 mL
1 1/2 Tbsp Dijon mustard 20 mL
2 tsp salt 10 mL
1 tsp black pepper 5 mL
8 medium garlic cloves, minced
1 (6-lb) bone-in leg of lamb, trimmed* 3kg
4 medium cucumbers, finely chopped
1 cup finely chopped red onion 250 mL
Instructions
1. In bowl, combine parsley, rosemary, lemon zest and juice, canola oil, mustard, salt and pepper. Place half of mixture in resealable plastic bag. Add garlic and lamb to bag. Seal and refrigerate 8 hours or overnight. Cover remaining half of spice mixture and refrigerate.
2. Preheat oven to 450 °F (230 °C). Place lamb on wire rack; place in roasting pan. Pour excess marinade over lamb and let stand 30 minutes. Bake 20 minutes.
3. Reduce heat to 375 °F (190 °C), bake 55-60 minutes or until thermometer inserted in thickest portion registers 145 °F (60 °C) for medium rare, 160 °F (70 °C) for medium and 170 °F (70 °C) for well done. Let stand 15 minutes; slice against grain.
4. In bowl, combine cucumbers and onion with reserved spice mixture. Serve cucumber mixture alongside lamb slices.
Yield
16 servings (3 lbs/1.5kg cooked lamb and 5 cups/1.25 L cucumber mixture)
serving size
3 oz (90 g) cooked lamb and 1/3 cup (75 mL) cucumber mixture
nutritional analysis
Per Serving
Calories
130
Total Fat
6 g
Saturated Fat
1 g
Cholesterol
50 mg
Carbohydrates
3 g
Fiber
1 g
Sugars
1 g
Protein
16 g
Sodium
380 mg
Potassium
309 mg