Layered Potato, Dill and Shrimp Salad
Summertime entertaining is easy with this make-ahead, all-in-one dish that is perfect for lunch or a light dinner. Be sure to serve in shallow bowls or a rimmed dinner plate to contain the flavorful juices. Canola oil provides healthy monounsaturated and plant-based omega-3 fats.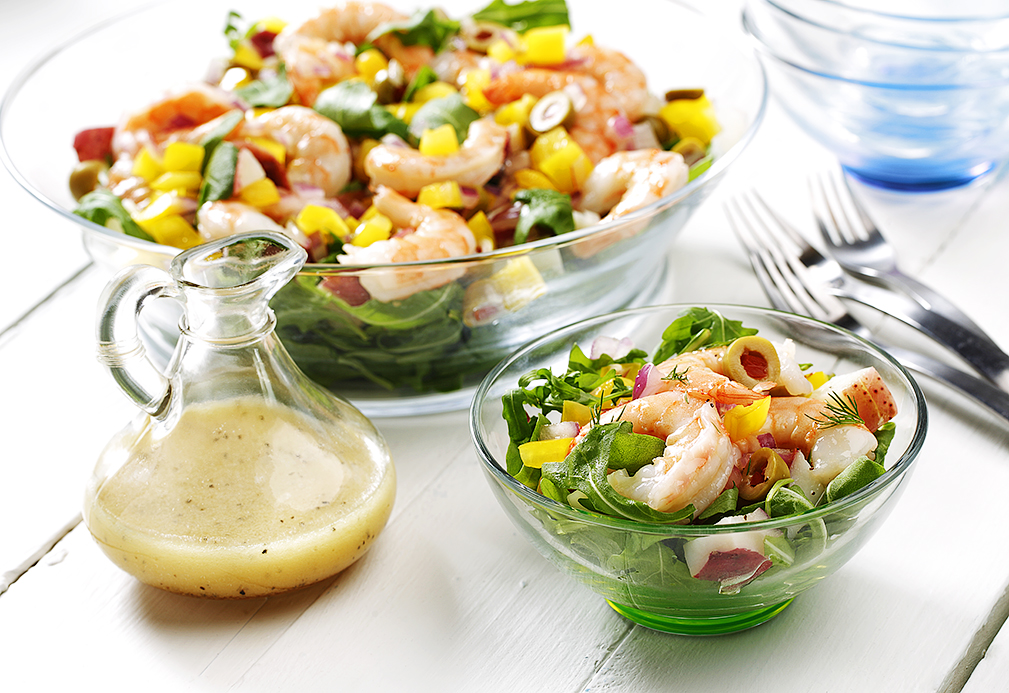 Ingredients
6 cups water (1.5 L)
12 oz. red potatoes, cut into 1/2-inch (1.25 cm) cubes (350 g)
1 lb. peeled and deveined raw shrimp 500 g
1 cup diced orange bell pepper 250 mL
1/2 cup finely chopped red onion 125 mL
2 oz. small pimiento-stuffed green olives, halved (about 18 olives) 60 g
1/4 cup canola oil 60 mL
1/4 cup cider vinegar 60 mL
1 tsp Dijon mustard 5 mL
1/4 tsp salt 1 mL
1/8 tsp ground black pepper 0.5 mL
1/4 cup (60 mL) chopped fresh dill or 1 1/2 Tbsp (20 mL) dried dill
4 cups arugula 1 L
Instructions
1. In a large saucepan, bring water to a boil over high heat. Add potatoes and shrimp, return to a full boil and cook 4 minutes or until potatoes are just tender. Drain in colander and run under cold water to cool quickly and stop cooking process. Drain well.
2. Arrange the shrimp mixture in the bottom of a 13 x 9 inch (33 x 23 cm) glass baking dish. Top with the bell pepper, onion, and olives.
3. In a jar, combine canola oil, vinegar, mustard, salt and pepper. Secure with lid and shake vigorously until well blended. Drizzle the vinegar mixture evenly over all. Sprinkle with the dill. Cover and refrigerate 2 hours to allow flavors to absorb.
4. Divide arugula into 4 shallow bowls, spoon shrimp mixture evenly over each serving.
Yield
4 servings
serving size
2 cups (500 mL) per serving
nutritional analysis
per serving
Calories
310
Total Fat
17 g
Saturated Fat
1.5 g
Cholesterol
145 mg
Carbohydrates
20 g
Fiber
3 g
Sugars
4 g
Protein
18 g
Sodium
1130 mg
Potassium
729 mg