Lemon Dill Mixed Green Salad
Bright, crisp and palate-cleansing, this tangy salad boasts herbaceousness from an abundance of fresh dill. Canola oil's mild taste lets all the contrasting flavors shine through. The salad also transforms into an excellent entrée with the addition of grilled or seared fish, shrimp or scallops.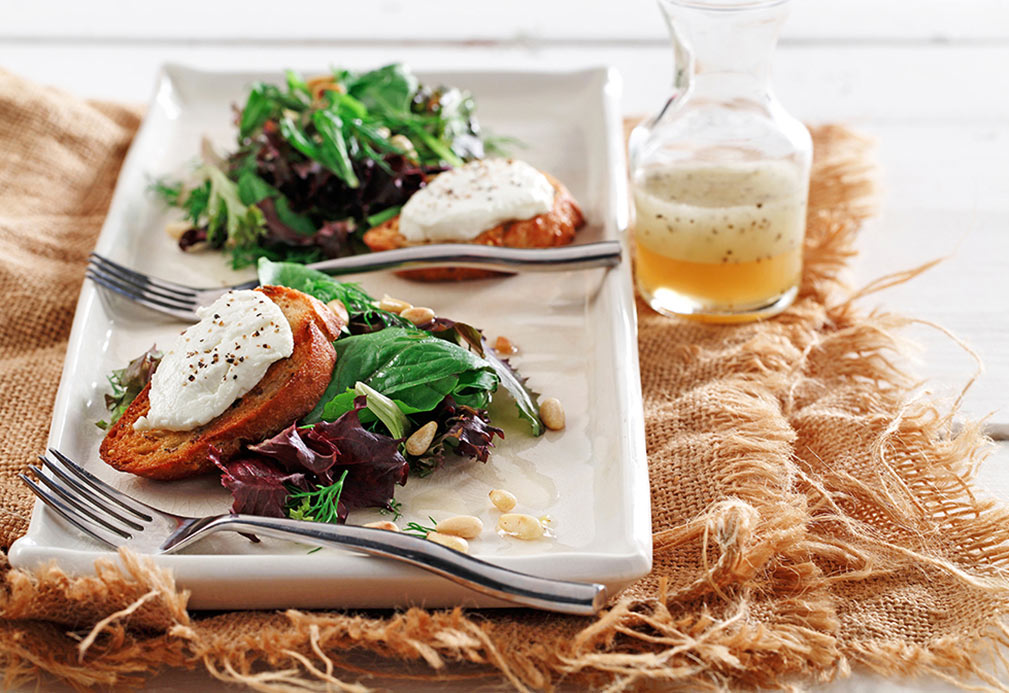 Ingredients
Honey-Lemon Vinaigrette:
2 tsp finely minced lemon zest 10 mL
1/4 cup fresh lemon juice 60 mL
1 1/2 Tbsp honey 20 mL
1/4 tsp salt 1 mL
1/4 tsp ground black pepper 1 mL
1/4 cup canola oil 60 mL
Mixed Green Salad:
1/2 cup fresh dill leaves 125 mL
6 cups mixed baby greens 1.5 L
2 Tbsp pine nuts, toasted 30 mL
Instructions
1. For vinaigrette: In medium bowl, whisk together lemon zest and juice, honey, salt and pepper. Slowly add canola oil, whisking briskly and continuously until emulsified.
2. For salad: Gently tear dill leaves a couple of times to break up very large pieces. Toss together greens, dill, pine nuts and enough vinaigrette to lightly coat each leaf. Divide salad evenly between salad plates and top each with warm Goat Cheese Croutons. Serve immediately.
Yield
4 servings
serving size
1 1/2 cups (375 mL)
nutritional analysis
Per Serving
Calories
170
Total Fat
14 g
Saturated Fat
1 g
Cholesterol
0 mg
Carbohydrates
11 g
Fiber
2 g
Sugars
6 g
Protein
2 g
Sodium
200 mg
Potassium
26 mg