Lemon Herb Grilled Steak
Canola oil in marinades keeps food moist and juicy. Canola oil's light color and taste allow other ingredients to sparkle in every recipe.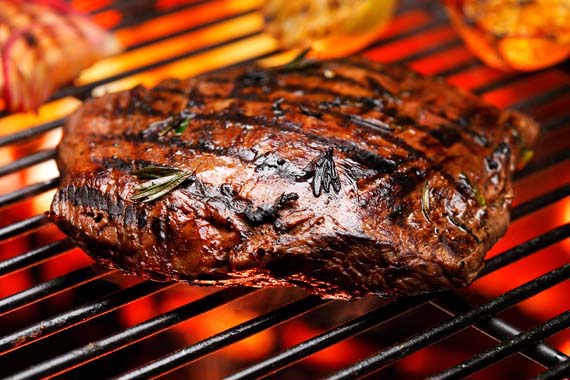 Ingredients
3 Tbsp canola oil 45 mL
1/4 cup lemon juice 60 mL
1 tsp liquid honey 5 mL
1 Tbsp fresh rosemary 15 mL
1 tsp chopped fresh parsley 5 mL
1/4 tsp salt 1 mL
1/4 tsp pepper 1 mL
1 lb beef flank, inside round or sirloin steak 500 g
Instructions
1. Combine canola oil, lemon juice, honey, rosemary, parsley, salt and pepper in resealable plastic bag.
2. Add steak and squeeze bag to coat steak and marinade; seal bag. Let stand for 12 hours or overnight in refrigerator.
3. Remove steak marinade and pat dry; discard marinade.
4. Grill steak over medium heat to desired doneness.
Yield
4 servings
serving size
nutritional analysis
Per Serving
Calories
190
Total Fat
8 g
Saturated Fat
2.5 g
Cholesterol
35 mg
Carbohydrates
4 g
Fiber
0 g
Protein
25 g
Sodium
220 mg