Lemon Vanilla Bean Canola Oil Pound Cake With Raspberry Sauce
Recipe developed at The Culinary Institute of America by Chef Instructor Almir Da Fonseca.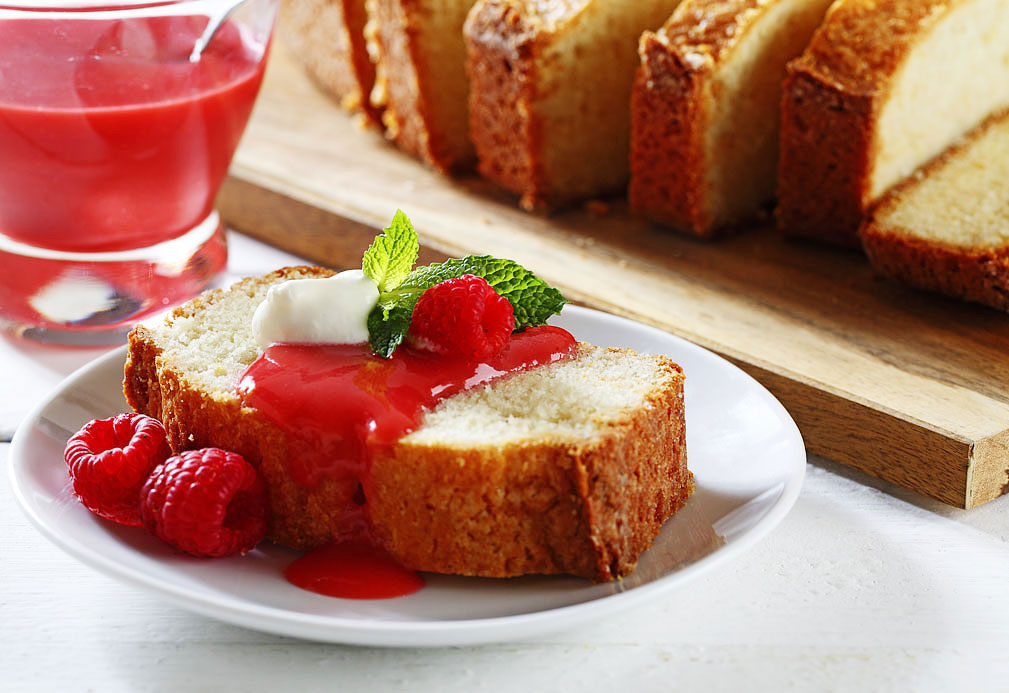 Ingredients
Cake
3/4 cup canola oil 175 mL
2 vanilla beans, split and seeded (reserve pods and seeds)
4 Tbsp lemon zest 60 mL
2 1/2 cups all-purpose flour 625 mL
1 cup cake flour 250 mL
1 3/4 cup granulated sugar 425 mL
1 Tbsp baking powder 15 mL
1 tsp salt 5 mL
2 Tbsp butter, melted 30 mL
3 eggs, lightly beaten
3/4 cup milk 175 mL
Raspberry Sauce
3 cups fresh or frozen raspberries 750 mL
1/2 cup Grand Marnier liqueur 125 mL
1/3 cup granulated sugar 75 mL
1/3 cup orange juice 75 mL
1 Tbsp orange zest 15 mL
1/2 tsp sea salt 2 mL
1/2 cup canola oil 125 mL
Instructions
1. In small saucepan, heat canola oil to 140 °F (60 °C). Remove from heat and add vanilla bean pods, seeds and lemon zest. Let canola oil return to room temperature. Remove bean pods.
2. For pound cake: In medium bowl, sift together flours, sugar, baking powder and salt. Set aside.
3. In mixing bowl, whisk together flavored canola oil, butter, eggs and milk. 
4. Add canola oil mixture to dry ingredients and combine well.
5. Divide batter into two greased 9 x 5-inch (22 x 12.5-cm) loaf pans. Bake at 350 °F (180 °C) for 45 to 50 minutes or until cake tester inserted into loaves comes out clean.
6. For sauce: In large bowl, combine raspberries, liqueur, sugar, orange juice, zest and salt. Mix well until sugar dissolves.
7. Strain through fine strainer into second bowl, pressing mixture with back of spoon. Discard raspberry seeds.
8. Pour mixture into blender and over low speed. Gradually add canola oil a little at a time until sauce is well emulsified. Serve sauce over pound cake.
Yield
18 servings
serving size
1 slice
nutritional analysis
Per Serving
Calories
370
Total Fat
18 g
Saturated Fat
2.5 g
Cholesterol
40 mg
Carbohydrates
48 g
Fiber
1 g
Protein
4 g
Sodium
270 mg