Lemon Walnut Chicken with Kale Chips
A side of kale chips add crunch to this yummy meal!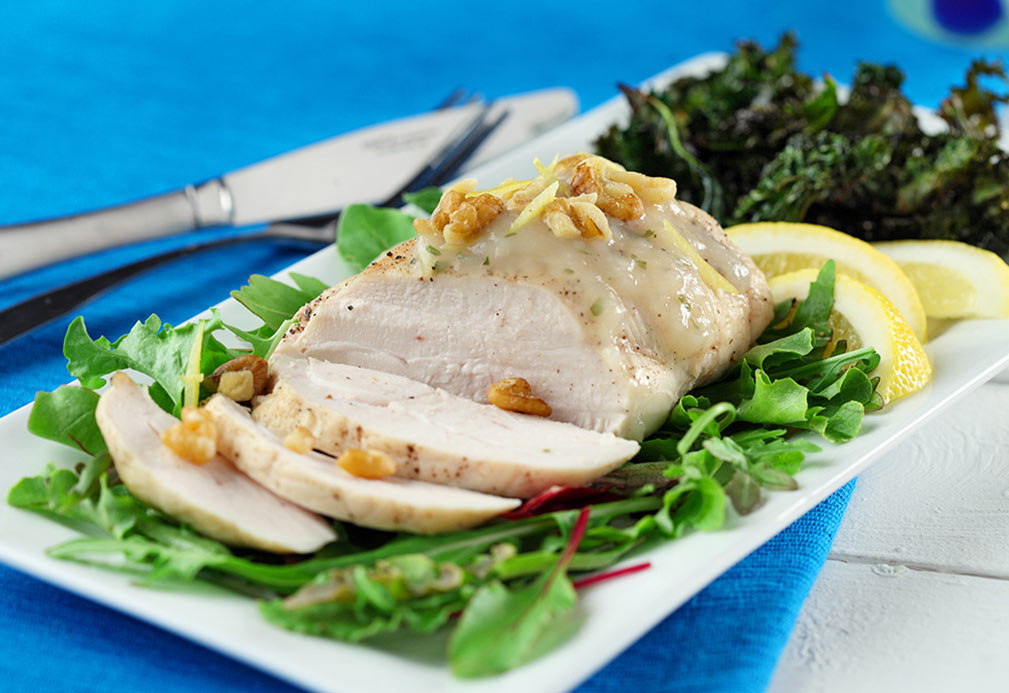 Ingredients
Lemon Walnut Chicken
4 boneless, skinless chicken breasts
1/4 tsp pepper 1 mL
2 tsp canola oil 10 mL
1 large shallot, chopped
1 Tbsp cornstarch 15 mL
1 cup low-sodium, fat-free chicken broth 250 mL
1/2 cup white cooking wine 125 mL
2 fresh lemons, juiced
2 Tbsp lemon zest 30 mL
1 tsp tarragon 5 mL
1/4 tsp black pepper 1 mL
1/4 tsp granulated sugar 1 mL
4 fresh lemon wheels
1/4 cup chopped walnuts 60 mL
Kale Chip
1 small bunch kale, stems removed and sliced into 1/2 inch strips
1 Tbsp canola oil 15 mL
4 cloves garlic, minced
1/4 tsp salt 1 mL
1/4 tsp freshly ground black pepper 1 mL
1/8 tsp cayenne pepper 0.5 mL
Instructions
Lemon Walnut Chicken
1. Preheat oven to 400 °F (200 °C)
2. Sprinkle chicken breasts with pepper. Roast for 25 to 30 minutes until cooked.
3. In a large sauté pan heat canola oil over medium high heat. Add shallots and sauté 3-5 minutes until golden. Add cornstarch and stir until incorporated. Add chicken broth, cooking wine, lemon juice, lemon zest, tarragon, pepper and sugar. Cook about 5 minutes, stirring often.
4. Transfer chicken to serving platter, pour sauce over it and top with walnuts and lemon wheels. Serve with kale chips. See recipe below.
Spiced Kale Chips
1. Preheat oven to 400° F (200 °C).
2. In a large bowl, combine the kale, canola oil, and garlic, tossing to coat. Season with salt, freshly ground black pepper and cayenne pepper. Transfer to small baking sheet and bake for 15 minutes, tossing once halfway through.
Yield
4 servings
serving size
1 chicken breast and 1/4 cup (60 mL) Kale chips
nutritional analysis
Per Serving
Calories
250
Total Fat
10 g
Saturated Fat
1.5 g
Cholesterol
75 mg
Carbohydrates
10 g
Fiber
2 g
Protein
29 g
Sodium
270 mg