Lunchbox Granola Bars
A wholesome snack for school, work or home.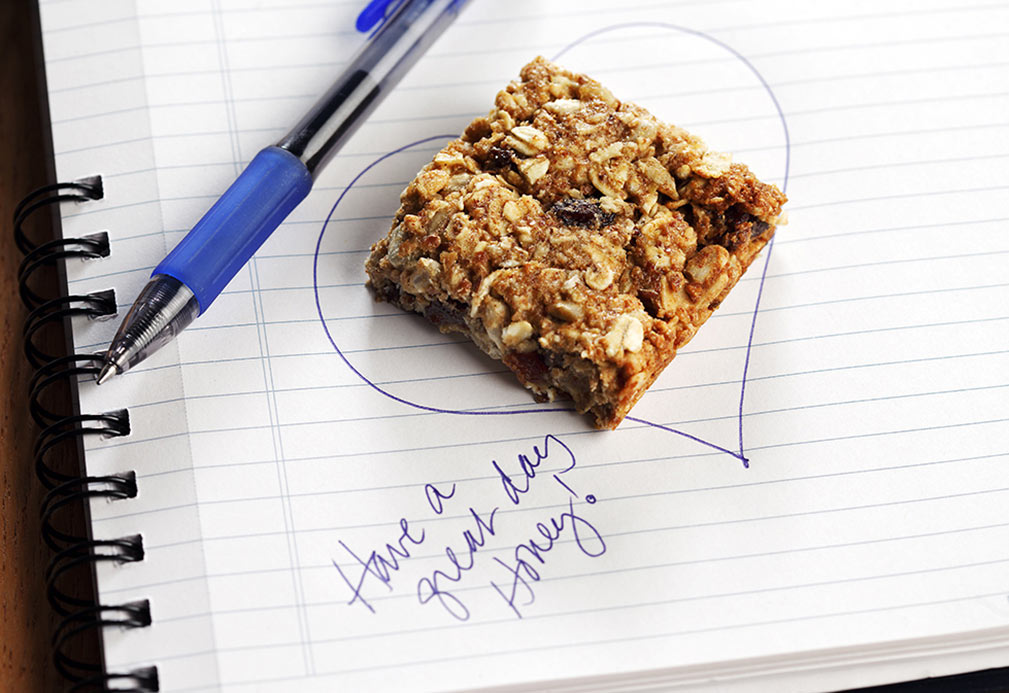 Ingredients
2 cups rolled oats 500 mL
1 cup whole wheat flour 250 mL
1/2 cup ground flaxseeds 125 mL
1/3 cup packed brown sugar 75 mL
1 tsp ground cinnamon 5 mL
1 cup raisins , chocolate chips or your favorite dried fruit 250 mL
1/2 cup sunflower seeds 125 mL
1/2 tsp salt 2 mL
1/3 cup honey 75 mL
1 egg, beaten
1/4 cup canola oil 60 mL
1/4 cup applesauce 60 mL
2 tsp vanilla extract 10 mL
Instructions
1. Preheat oven to 350 °F (180 °C). Oil a 9 x 13 inch (22 x 33-cm) baking pan.
2. In large bowl, mix together oats, flour, flaxseed, brown sugar, cinnamon, raisins, sunflower seeds and salt. Make a well in center; set aside. 
3. In small bowl, combine honey, egg, canola oil, applesauce and vanilla. Add liquid ingredients to well and mix. Pat mixture evenly into a prepared pan.
4. Bake 20 to 25 minutes until bars begin to turn golden at edges. Cool 5 minutes, then cut into bars while still warm. Do not allow bars to cool completely before cutting, or they will be too hard to cut.
Yield
24 servings
serving size
1 piece
nutritional analysis
Per Serving
Calories
150
Total Fat
6 g
Saturated Fat
0.5 g
Cholesterol
10 mg
Carbohydrates
22 g
Fiber
3 g
Sugars
12 g
Protein
3 g
Sodium
55 mg
Potassium
118 mg