Maple Roasted Pork Tenderloin with Rosemary
Pork tenderloin is lean, yet tender and flavorful. Its long, narrow shape allows it to cook quickly, making it a great choice for fast, weeknight meals. Searing the meat on the stove-top first in a drizzle of canola oil adds flavor by browning the exterior; it then finishes cooking quickly in the oven. A simple, five-ingredient marinade does double duty - after infusing the meat its simmered into a sweet, savory sauce to serve alongside the roasted pork.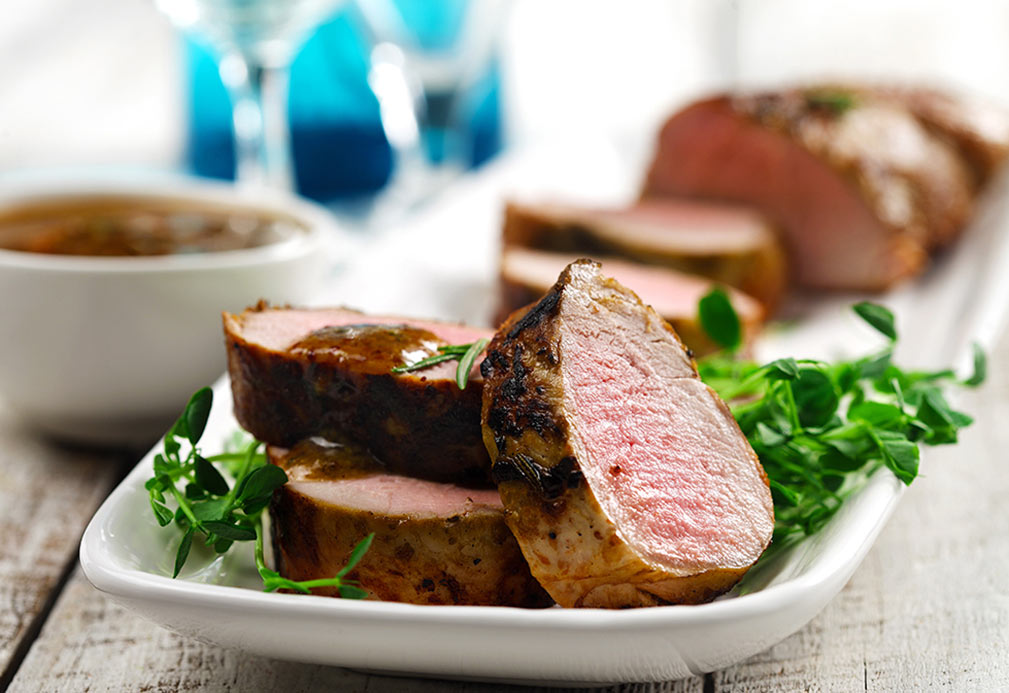 Ingredients
1/4 cup maple syrup 60 mL
2 Tbsp low-sodium soy sauce 30 mL
2 Tbsp grainy Dijon mustard 30 mL
1 Tbsp lemon juice 15 mL
2 tsp chopped fresh rosemary 10 mL
1 lb pork tenderloin, trimmed of excess fat 500 g
2 Tbsp canola oil 30 mL
Instructions
1. In large bowl or zip-lock bag, combine maple syrup, soy sauce, mustard, lemon juice and rosemary. Add pork tenderloin and cover or seal and refrigerate for at least an hour or up to 24. (Do-ahead: pork can be frozen in marinade at this point for up to four months. Thaw it completely in refrigerator overnight before proceeding.)
2. When ready to cook, preheat oven to 400 ˚F (200 ˚C). In large, heavy, oven-proof skillet, heat generous drizzle of canola oil over medium-high heat.
3. Remove pork from marinade and brown it on all sides. Place skillet in oven and cook for 15-20 minutes, until meat thermometer inserted into thickest part of pork reads 155 ˚F (68 ˚C). Tent loosely with foil and let rest for 10 minutes before slicing.
4. Meanwhile, in small saucepan, bring remaining marinade to boil over medium-high heat. Reduce heat and simmer for at least a minute, until it thickens slightly.
5. Slice pork into 1/2 inch (1 cm) thick slices on slight diagonal and serve drizzled with spoonful of sauce. This dish is best served with mashed potatoes to catch any extra sauce.
Tips: For variation, you can make Maple Rosemary Pork Satay by cutting the pork tenderloin crosswise in half, then lengthwise into strips before marinating. Thread onto bamboo skewers that have been soaked in water for at least 10 minutes, and grill on a preheated grill (or grill pan) that has been brushed with canola oil for 2 to 3 minutes per side, until just cooked through.
Alternately, bake on a rimmed baking sheet that has been brushed with canola oil at 400˚F (200 ˚C) for 5-7 minutes, until just cooked through.
Yield
4 servings
serving size
2 slices of 1/2 inch/ 1 cm (158 g)
nutritional analysis
Per Serving
Calories
240
Total Fat
9 g
Saturated Fat
1.5 g
Cholesterol
75 mg
Carbohydrates
12 g
Fiber
0 g
Protein
24 g
Sodium
440 mg