Meatballs With Orange Cranberry Glaze
Serve these meatballs with dipping sauce for your next special occasion.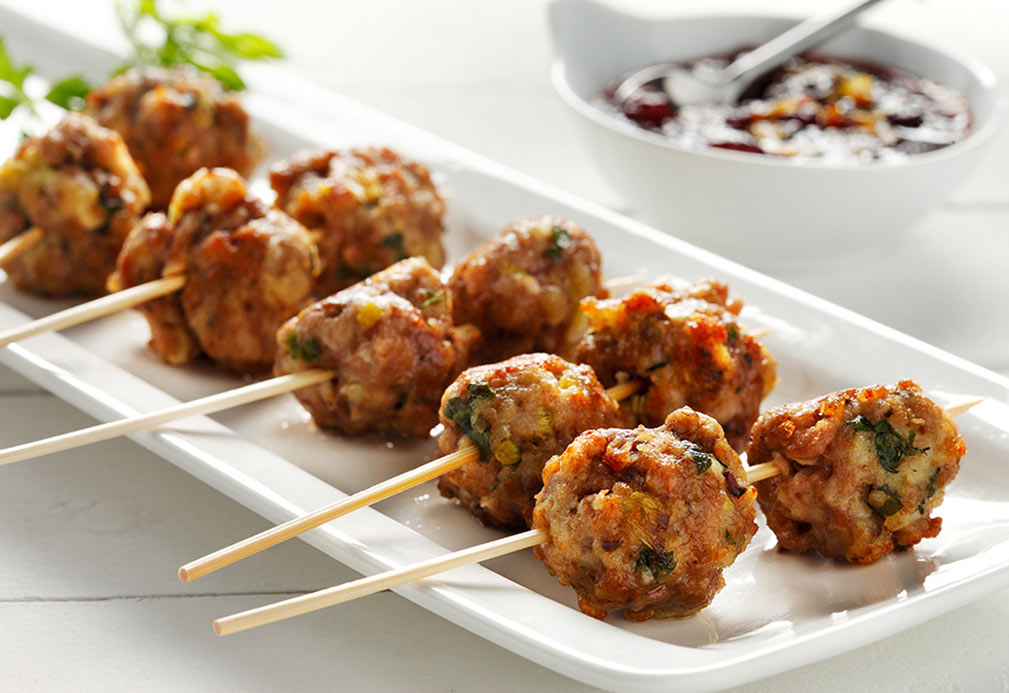 Ingredients
2 lbs ground pork or chicken 1 kg
1 cup fresh bread crumbs 250 mL
1/2 cup mayonnaise 125 mL
1/2 cup finely chopped green onion 125 mL
2 cloves garlic, minced
2 Tbsp finely chopped fresh parsley 30 mL
Salt and pepper to taste
3 Tbsp canola oil 45 mL
1 can (14oz / 398 mL) whole cranberry sauce
2 Tbsp honey 30 mL
2 Tbsp soy sauce 30 mL
2 Tbsp sesame seeds, toasted 30 mL
1 Tbsp canola oil 15 mL
1 Tbsp grated orange zest 15 mL
1 Tbsp grated orange zest 15 mL
25 (6 inch/15 cm) wooden skewers
Instructions
1. In large bowl, combine ground pork or chicken, bread crumbs, mayonnaise, green onions, garlic, parsley, salt and pepper. Mix well. Form mixture into 1 inch (2.5 cm) balls.
2. In large frying pan, heat canola oil over medium heat. Cook chicken balls until lightly browned and cooked through, and juices run clear. Set aside.
3. Meanwhile, in medium saucepan, combine cranberry sauce, honey, soy sauce, sesame seeds, canola oil and orange zest. Cook over low heat, whisking occasionally, until hot and thickened slightly about 20 minutes.
4. Thread 2 meatballs onto each skewer and place on serving dish. Pour cranberry dipping sauce into small bowl. Serve with chicken balls.
Yield
25 appetizers
serving size
nutritional analysis
Per Serving
Calories
140
Total Fat
8 g
Saturated Fat
1.5 g
Cholesterol
25 mg
Carbohydrates
12 g
Fiber
<1 g
Protein
6 g
Sodium
120 mg