Mini Peppermint Cupcakes
Ring in the season with peppermint-topped, chocolate cupcakes. Canola oil makes the cupcakes light and fluffy. These bite-sized, mouth-watering treats will get your guests in the mood to celebrate the holidays in style!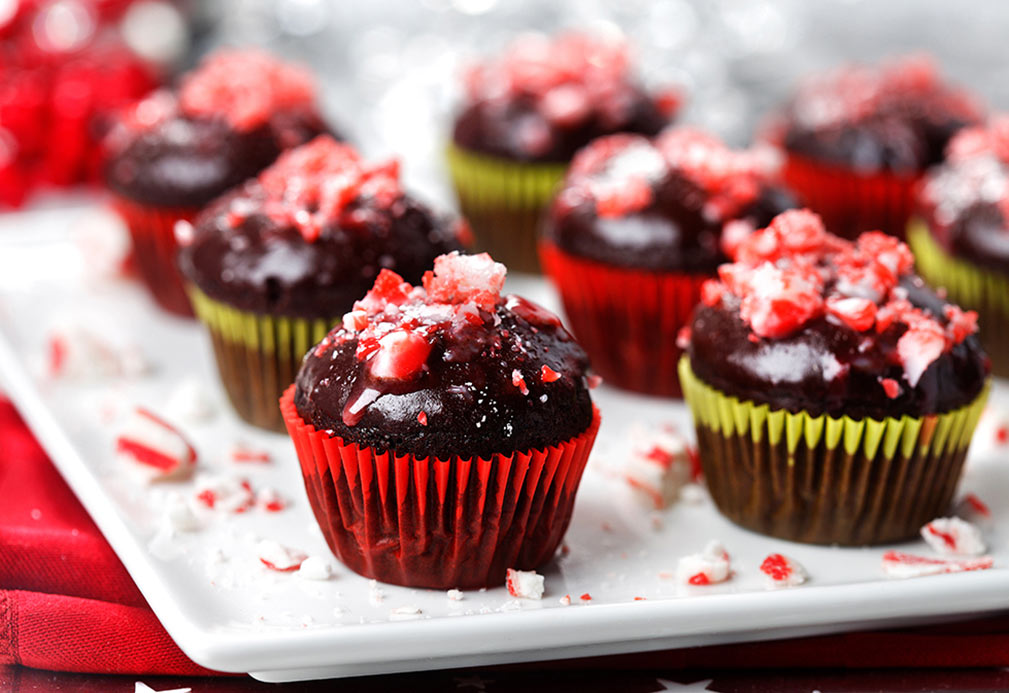 Ingredients
Cupcake
1 1/2 cups all-purpose flour 375 mL
3/4 cup granulated sugar 175 mL
1 tsp baking soda 5 mL
1 tsp salt 5 mL
1/2 cup cocoa powder 125 mL
1/2 cup canola oil 125 mL
1 cup skim milk 250 mL
1 tsp vinegar 5 mL
1 tsp peppermint extract 5 mL
Chocolate Glaze
1/2 cup heavy cream 125 mL
4 oz bittersweet chocolate, chopped 125 g
1 Tbsp honey 15 mL
1/2 Tbsp prepared coffee 7 mL
Instructions
1. Preheat oven to 350 °F (180 °C). 
2. Line mini cupcake pan with paper cupcake liners. 
3. In medium bowl, mix together flour, sugar, baking soda, salt and cocoa powder. In large bowl, mix canola oil, milk and vinegar. 
4. Add half of dry ingredients into oil. When well combined, add peppermint extract. Slowly mix in remaining dry ingredients until fully combined and free of lumps. 
5. Scoop batter into cupcake liners with small ice cream scoop or spoon. Bake cupcakes for 12 minutes. Cool completely on rack.
6. While cupcakes are cooling, make glaze. In saucepan, mix cream, chocolate, honey and coffee on low heat. Stir until smooth. Let cool. 
7. Dip cooled cupcakes in chocolate glaze. Place on rack and sprinkle with crushed peppermint candies. Let glaze harden.
Tip: To crush the peppermint candies, put them in a zip-top bag and crush with a rolling pin or use a food processor.
Yield
36 mini cupcakes
serving size
1 mini cupcake
nutritional analysis
Per Serving
Calories
110
Total Fat
5 g
Saturated Fat
1.5 g
Cholesterol
5 mg
Carbohydrates
15 g
Fiber
0 g
Sugars
10 g
Protein
1 g
Sodium
100 mg
Potassium
41 mg