Mixed Greens, Mango and Pecan Salad
This salad is delicious and colorful.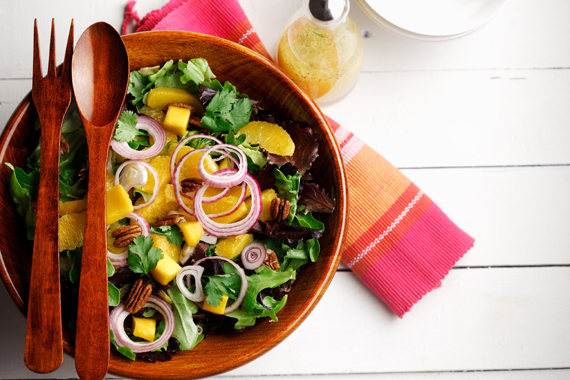 Ingredients
Dressing
1/2 cup orange juice 125 mL
2 Tbsp lime juice 25 mL
1 Tbsp white vinegar 15 mL
1/3 cup canola oil 75 mL
1 Tbsp honey 15 mL
1 Tbsp tequila 15 mL (optional)
1/4 tsp pepper 1 mL
Salad
8 cups mixed greens 2 L
2 oranges, sectioned
1 mango, diced
1 red onion, thinly sliced
1/3 cup fresh cilantro, chopped 75 mL
1/3 cup pecan halves 75 mL
2 tsp lime zest 10 mL
Instructions
1. In bowl, mix together orange and lime juices, vinegar, canola oil, honey, tequila and pepper. Season to taste. Keep refrigerated until ready to use.
2. In another bowl, toss together greens, orange, mango, onion and cilantro.
3. Drizzle 1/3 cup (75 mL) of dressing over salad and garnish with pecans and lime zest. Serve. Refrigerate remaining dressing for your next salad.
Cook's note: If you want to spice it up, add some diced and seeded jalapeno peppers.
Yield
16 servings
serving size
1/2 cup (125 mL)
nutritional analysis
Per Serving
Calories
120
Total Fat
5.5 g
Saturated Fat
0 g
Cholesterol
0 mg
Carbohydrates
16 g
Fiber
3 g
Protein
2 g
Sodium
20 mg