Molten Chocolate Cake
With all the elegance of a plated dessert and all the gooey goodness of a brownie, these individual chocolate cakes are a perfect finish to any special meal. Canola oil in place of butter produces a tender crumb while reducing the saturated fat content. See the recipe video below.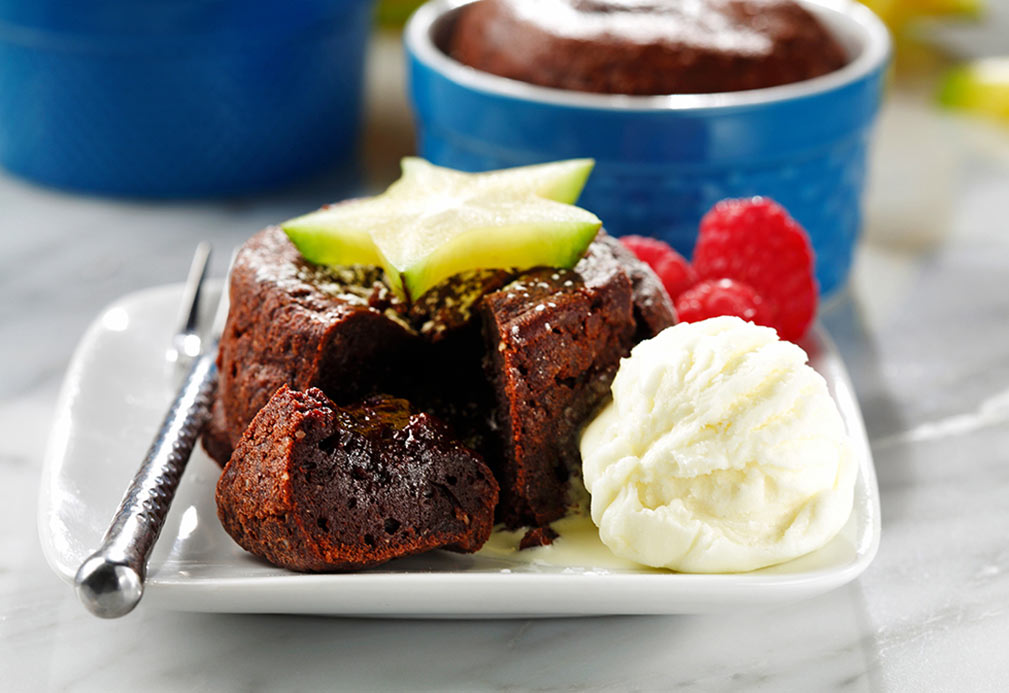 Ingredients
1 cup canola oil 250 mL
11 oz dark chocolate (64% cacao) 325 g
7 eggs
6 egg yolks
2/3 cup granulated sugar 150 mL
2 Tbsp light brown sugar 30 mL
1/2 cup all-purpose flour 125 mL
1/2 cup almond flour 125 mL
1/4 cup cacao nibs, finely chopped or mini chocolate chips 60 mL 
Instructions
1. In double boiler, add water to bottom pot and add canola oil and chocolate to top pot. Bring water in bottom pot to a boil. Turn heat to low and stir oil-chocolate mixture until chocolate is melted and mixture is smooth, about 4 minutes. Make sure water does not boil again.
2. In bowl, whisk whole eggs, egg yolks and sugars together until well blended. Whisk chocolate mixture into egg mixture until thoroughly incorporated.
3. Add all-purpose flour and almond flour into chocolate mixture and whisk until just combined. Fold in cacao nibs.
4. Brush 10 small ramekins with canola oil and scoop about 6 Tbsp (90 mL) cake batter into each ramekin. You may place filled ramekins in refrigerator or freezer for later baking but bring to room temperature before proceeding with next step.
5. Preheat oven to 350 °F (180 °C). Bake for 10 minutes. Remove from oven and unmold ramekins directly onto plate. Serve warm with fresh berries and Star Anise- and Orange-Infused Canola Ice Cream (see separate recipe) if desired.
Yield
10 servings
serving size
1 ramekin
nutritional analysis
Per Serving
Calories
580
Total Fat
46 g
Saturated Fat
13 g
Cholesterol
245 mg
Carbohydrates
39 g
Fiber
5 g
Protein
11 g
Sodium
55 mg