Muesli Muffins with Almonds and Cranberries
Whole grains, cranberries and almonds jack up the nutrient power in these muffins compared to common, cake-like ones. To round out breakfast, pair a muffin with some nuts and a piece of fruit for additional protein, energy and nutrients. Canola oil provides a moist, tender texture, plus adds vitamins E and K.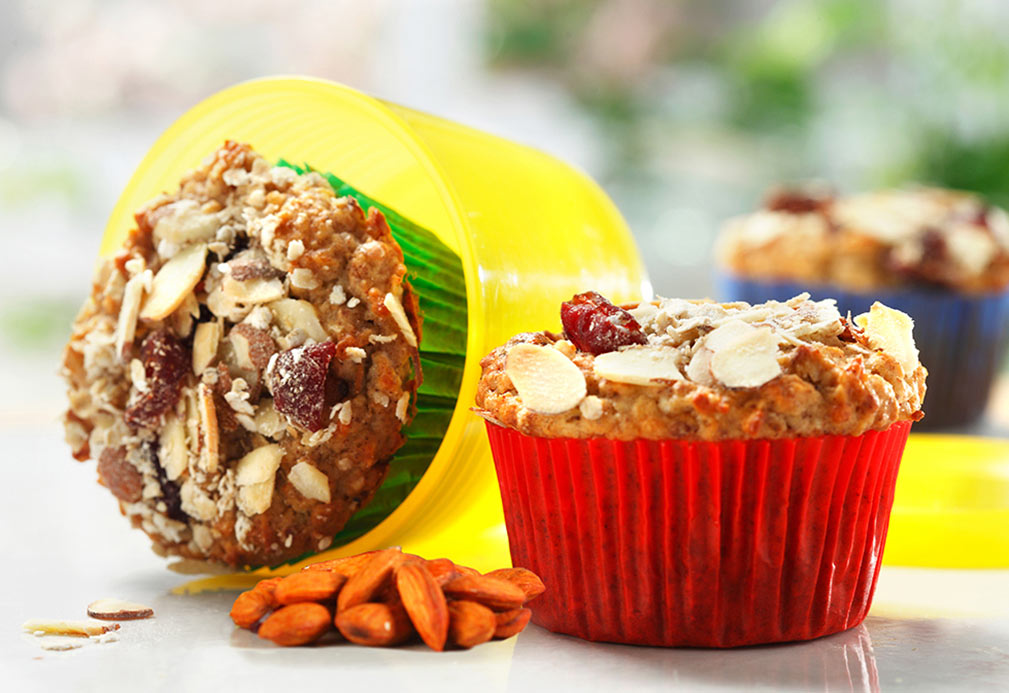 Ingredients
canola cooking spray
1 cup white whole-wheat flour 250 mL
2/3 cup granulated sugar 150 mL
1/4 cup ground flaxseed 60 mL
1 1/2 tsp ground cinnamon 7 mL
3/4 tsp baking soda 4 mL
1/2 tsp salt 2 mL
1/3 cup sliced almonds 75 mL
1 1/2 cups quick-cooking or old-fashioned oats 375 mL
1/2 cup dried cranberries 125 mL
1 cup non-fat Greek yogurt 250 mL
1/3 cup canola oil 75 mL
1 (4 oz/114 mL) jar pear purée baby food
1 large egg
1 1/2 tsp almond extract 7 mL 
Instructions
1. Preheat oven to 350 °F (180 °C). Lightly spray 12-cup, non-stick muffin pan with cooking spray. 
2. In large bowl, whisk together flour, sugar, flaxseed, cinnamon, baking soda and salt. 
3. In small bowl, combine almonds, 1/4 cup (60 mL) oats and 1/4 cup (60 mL) cranberries and set aside. Stir remaining oats and cranberries into flour mixture until well blended. 
4. In medium bowl, whisk together yogurt, canola oil, pear purée, egg and almond extract. Stir yogurt mixture into flour mixture until just blended. Do not overmix. 
5. Spoon equal amounts of batter into muffin cups. Sprinkle evenly with reserved almond mixture. Bake 18 to 20 minutes. Cool in pan 5 minutes. Remove from pan; serve warm or let cool to room temperature. 
Yield
12 muffins
serving size
1 muffin
nutritional analysis
Per Serving
Calories
240
Total Fat
9 g
Saturated Fat
1 g
Cholesterol
15 mg
Carbohydrates
34 g
Fiber
3 g
Sugars
18 g
Protein
6 g
Sodium
115 mg
Potassium
73 mg