Mushroom Tostada
Mushrooms and refried black beans are a terrific combination in this delicious and healthy tostada recipe. Canola oil's light taste lets all the other earthy flavors come through and helps keep saturated fat content low.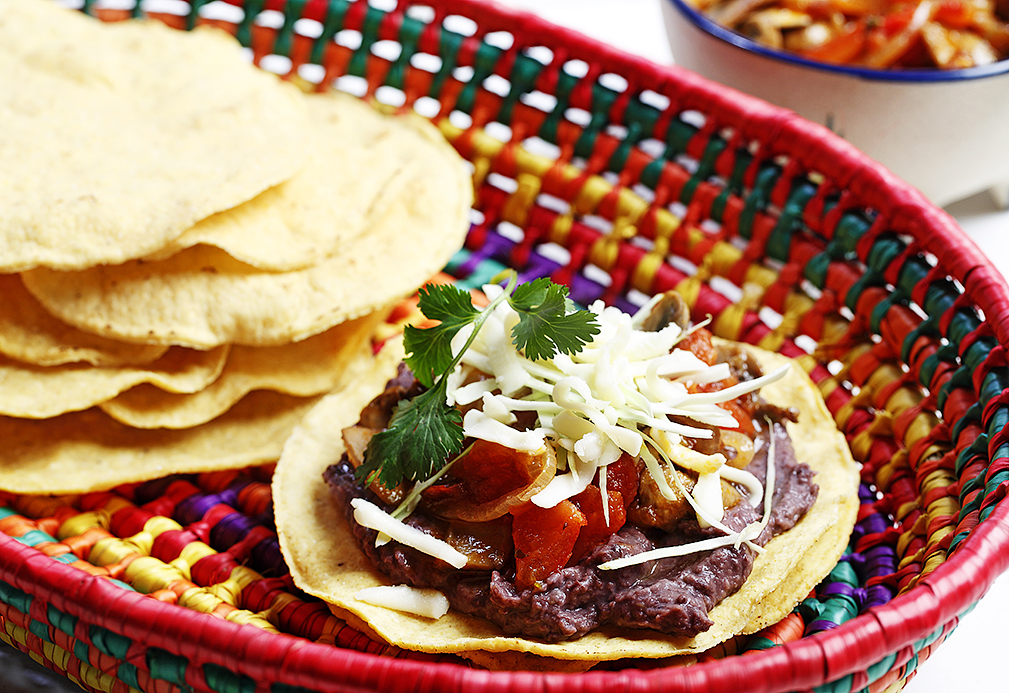 Ingredients
Ingredients:
1 Tbsp canola oil 15 mL
3/4 cup thinly sliced onion 175 mL
1 clove garlic, minced
3 sprigs cilantro
1 lb mushrooms, thinly sliced 500g
3 Roma tomatoes, chopped
2 chipotle peppers canned in adobo
1/2 tsp salt 2 mL
Black Bean Sauce
1 Tbsp canola oil 15 mL
2 garlic cloves, minced
2 Tbsp finely chopped onion 30 mL
1 tsp dried oregano 5 mL
1/2 tsp salt 2 mL
1 cup canned black beans, drained and rinsed 250 mL
1/2 cup water 125 mL
4 baked tortilla tostadas
3 Tbsp grated mozzarella cheese 45 mL
1 cup finely shredded cabbage 250 mL
2 Tbsp chopped cilantro 30 mL
Instructions
Instructions:
1. In skillet, heat canola oil on medium heat and sauté onion, garlic and cilantro until onions are soft. Add mushrooms and cook until mushrooms are soft and all liquid evaporates.
2. To mushroom mixture, add tomatoes and chipotle pepper. Cook 15 minutes at low heat. Season with salt.
3. Meanwhile, in another skillet, heat 1 Tbsp (15 mL) canola oil on medium heat and sauté garlic and onion. Season with oregano and salt and cook until onion is soft. Add black beans and water. Using emersion blender, process until sauce is smooth. Add additional water for desired consistency.
4. Spread beans over tostadas, top with mushrooms, mozzarella cheese and cabbage, dividing ingredients between tostadas. Garnish with fresh cilantro.
Yield
4 servings.
serving size
1 tostada.
nutritional analysis
| | |
| --- | --- |
| Calories | 270 |