Oriental Pasta Salad
While the history of pasta may lead on back to the Orient and their rice or millet noodles, this recipe combines the best of both traditions – semolina wheat pasta with flavors of the Orient.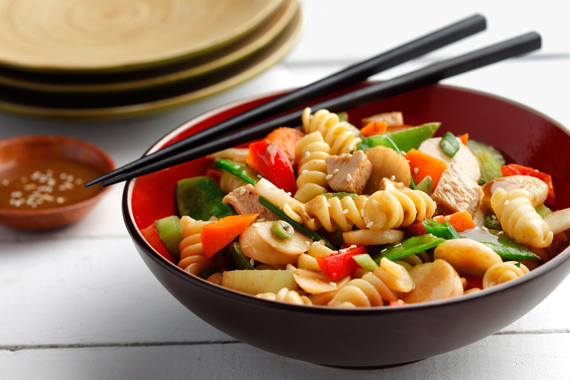 Ingredients
2 cups whole wheat dry rotini or shell pasta 500 mL
1/4 cup vinegar 60 mL
2 Tbsp canola oil 30 mL
1 clove garlic, minced
3/4 tsp ground ginger 4 mL
2 Tbsp low sodium soy sauce 30 mL
1 Tbsp Dijon mustard 15 mL
1/2 red pepper, thinly sliced
1/2 large carrot, thinly sliced on diagonal
1/2 cup snap peas, trimmed and cut in half 125 mL
1/2 cup celery, cut on diagonal 125 mL
2 chopped green onions
1 (8 oz/ 227 mL) can water chestnuts, sliced and drained
1 cup chopped cooked turkey 250 mL
Instructions
1. Cook pasta in lightly salted, boiling water until al dente. 
2. In a small bowl, whisk together vinegar, canola oil, garlic, ginger, soy sauce and mustard; until combined. 
3. Drain pasta. In a large bowl combine hot pasta and dressing. Toss well. Stir in red pepper, carrot, peas, celery, green onion, water chestnuts and turkey. Refrigerate several hours or overnight to allow flavors to blend.
Yield
6 servings
serving size
1 cup (250 mL)
nutritional analysis
Per Serving
Calories
450
Total Fat
7 g
Saturated Fat
0 g
Cholesterol
40 mg
Carbohydrates
70 g
Fiber
9 g
Protein
26 g
Sodium
250 mg