Pecan Pumpkin Bran Muffins
Allowing the muffins to stand in tins for a few minutes, continues to cook the muffins without drying them out.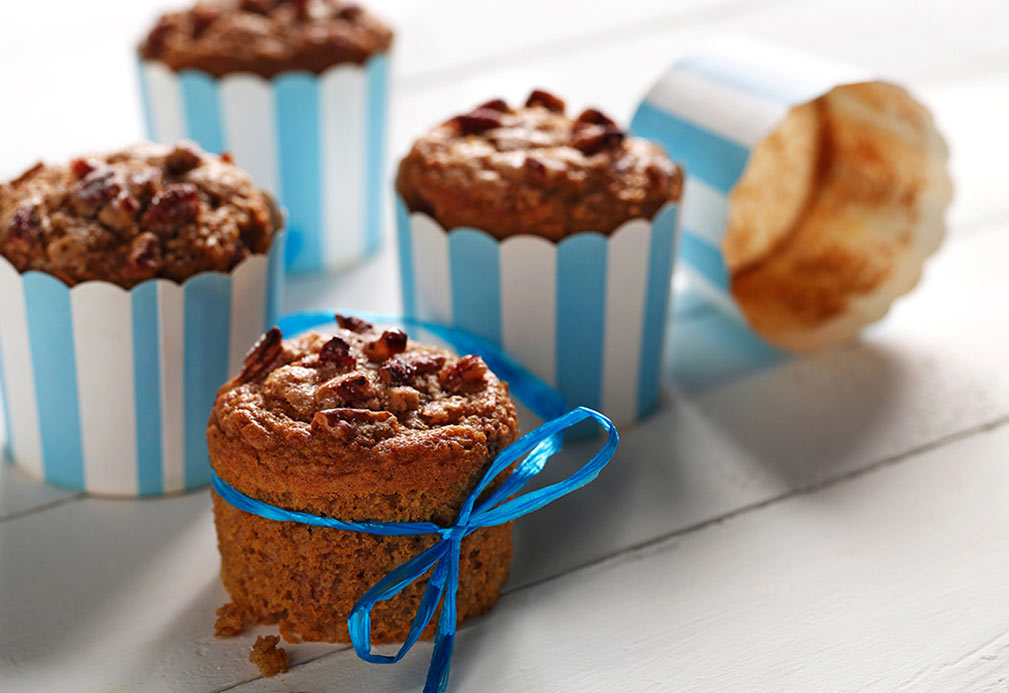 Ingredients
1 cup bran cereal 250 mL
1 1/4 cups non fat buttermilk 300 mL
1 cup all purpose flour 250 mL
1/3 cup granulated sugar 75 mL
1 Tbsp baking powder 15 mL
1/2 tsp baking soda 2 mL
1/4 tsp salt 1 mL
2 tsp ground cinnamon 10 mL
2 Tbsp canola oil 30 mL
2 large egg whites
1 Tbsp vanilla extract 15 mL
1 cup canned pumpkin (not pumpkin pie mix) 250 mL
1/4 cup pecan pieces 60 mL
2 Tbsp granulated sugar 30 mL
1/2 tsp ground cinnamon 2 mL
Instructions
1. Preheat oven to 400 °F (200 °C). Lightly coat muffin tin with canola cooking spray and set aside.
2. In small bowl, combine bran and buttermilk, stir until moistened and let stand 5 minutes.
3. Meanwhile, in medium bowl, combine the flour, sugar, baking powder, baking soda, salt and cinnamon; stir until well blended.
4. Add canola oil, egg whites, vanilla and pumpkin to bran mixture. Stir until well blended. Add the pumpkin mixture to the flour mixture and stir until JUST blended. Do not overmix.
5. Spoon batter into muffin tin. Sprinkle pecan pieces evenly over all. In small bowl, combine the second amounts of sugar and cinnamon. Sprinkle evenly over all and bake 15 minutes or until wooden pick inserted comes out almost clean. Let stand in muffin tins on cooling rack 5 minutes before carefully removing and cooling completely on rack. To maximize freshness, store muffins covered in refrigerator or freeze.
Yield
18 muffins
serving size
1 muffin
nutritional analysis
Per Serving
Calories
100
Total Fat
3 g
Saturated Fat
0 g
Cholesterol
0 mg
Carbohydrates
16 g
Fiber
2 g
Protein
3 g
Sodium
190 mg