Plantain Molotes with Refried Black Beans
This traditional dish contrasts the earthy flavor of black beans against plantains, which can be sweet or mild depending on their ripeness. Using canola oil keeps saturated fat to a minimum and heat tolerance high for frying.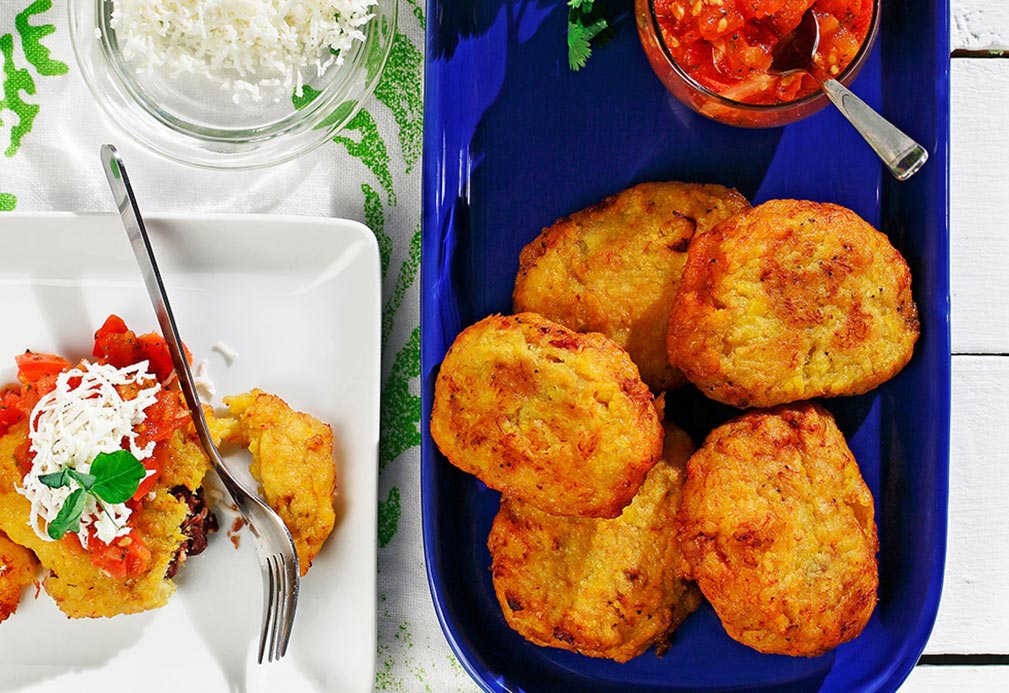 Ingredients
4 plantains
Refried Beans
1Tbsp canola oil 15 mL
1/4 onion, finely chopped
1 clove garlic, finely chopped
1 avocado leaf,* finely chopped
1 cup cooked or canned black beans, rinsed and drained 250 mL
1 sprig epazote or oregano
1/4 tsp salt 1 mL
1/4 tsp ground black pepper 1 mL
Tomato Sauce
1 Tbsp canola oil 15 mL
2 Tbsp diced onion 30 mL
1 clove garlic, minced
4 tomatoes, chopped
1 sprig epazote or oregano
1/2 tsp granulated sugar 2 mL
1/4 tsp salt 1 mL
1/4 tsp ground black pepper 1 mL
Frying
2 cups canola oil for frying 500 mL
Topping
3/4 cup sour cream 175 mL
3/4 cup grated Cotija cheese or crumbled feta cheese 175 mL
Instructions
1. Wash plantains. Trim off ends and cut each plantain in half. In large saucepan, cook unpeeled plantains in enough water to cover them. Cook time will depend on ripeness; green plantains can take 15 to 20 minutes, while ripe yellow plantains may only take 5 to 10 minutes. Cook until peels crack and plantains are soft when pierced with fork. Drain, peel and mash until no lumps remain. Season with salt. Cover until ready to use.
2. To make Refried Beans: In skillet, heat canola oil. Sauté onion and garlic until soft. Add avocado leaf and beans. Mash beans as they cook. Season with epazote, salt and pepper.
3. To make Tomato Sauce: In saucepan, heat canola oil. Add onion, garlic and tomatoes. Sauté until onions are soft. Season with epazote, sugar, salt and pepper.
4. For molotes: form disc of 1/3 cup (75 mL) mashed plantains, place 1 1/2 Tbsp (20 mL) refried beans on top and form plantain around beans, encasing them.
5. In deep skillet, heat canola oil over high heat. Working in batches, add molotes to canola oil. Cook until golden brown, about 3 to 5 minutes. Once cooked, transfer to paper towel to drain.
6. Serve molotes with tomato sauce, a dollop of sour cream and grated cheese.
Cook's Tip: Substitute one avocado leaf for one bay leaf and 2 or 3 anise seeds.
Yield
12 molotes
serving size
1 molote
nutritional analysis
Per Serving
| | |
| --- | --- |
| Calories | 253 |