Pork Chops with Peanut Satay Sauce
This pork in a Thai-style marinade has hints of coconut, chile and curry. Canola oil in the accompanying peanut satay sauce gives it a lighter texture while letting classic flavors shine.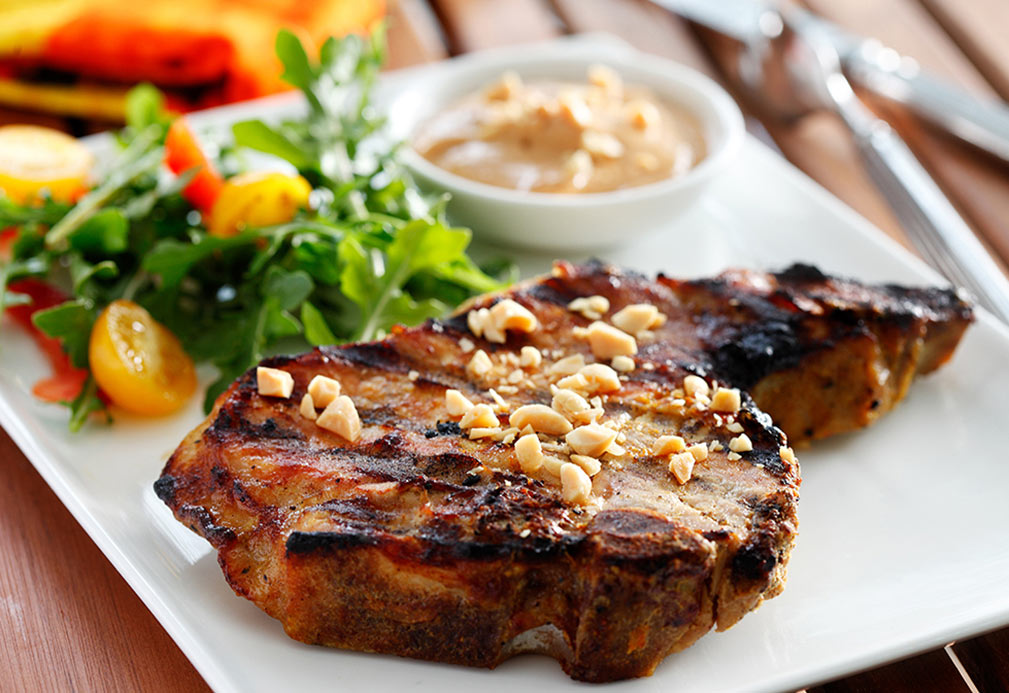 Ingredients
Pork Chop
1/4 cup coconut milk 60 mL
3 Tbsp canola oil 45 mL
3 Tbsp fish or low-sodium soy sauce 45 mL
2 tsp chili paste (sriracha) 10 mL
3 cloves garlic, finely minced
1 Tbsp finely minced ginger 15 mL
2 Tbsp brown sugar 30 mL
2 tsp curry powder 10 mL
1/2 tsp salt 2 mL
1/2 tsp freshly ground black pepper 2 mL
6 pork chops, fat trimmed (4 oz/125 g each)  
Peanut Satay Sauce
2 Tbsp canola oil 30 mL
1 Tbsp finely chopped ginger 15 mL
1 Tbsp red curry paste 15 mL
2/3 cup natural, smooth peanut butter 150 mL
1/2 cup water 125 mL
1 Tbsp brown sugar 15 mL
1 Tbsp low-sodium soy sauce 15 mL
juice of 2 limes
1/2 cup coconut milk 125 mL
3 Tbsp chopped, roasted peanuts 45 mL  
Instructions
1. In mixing bowl, place all ingredients except for pork chops. 
2. In heavy, resealable plastic bag, place marinade along with pork chops and refrigerate 6 to 8 hours, turning bag over a few times.
3. Remove pork chops from marinade and discard it.
4. Place on pork chops on medium-hot, lightly oiled grill and barbecue for 12 to 14 minutes (6 to 7 minutes per side), depending on desired doneness. If pork chops are thinner than 3/4 inch (2 cm), only cook 5 to 6 minutes per side. Serve with peanut satay sauce on side (recipe below).  
Tip: As an alternative, make appetizer kabobs by threading strips of pork on bamboo skewers.
Peanut Satay Sauce
5. In saucepan, heat canola oil over medium heat. 
6. Add ginger and curry paste and sauté until fragrant, about 1 minute. 
7. Stir in peanut butter, water, brown sugar and soy sauce. Mix until well combined. 
8. Add lime juice and coconut milk. Mix until smooth.   
9. In bowl, place sauce and garnish with chopped peanuts.
Yield
6 servings
serving size
1 pork chop and 2 Tbsp (30 mL) sauce
nutritional analysis
Per Serving
Calories
250
Total Fat
13.5 g
Saturated Fat
3 g
Cholesterol
90 mg
Carbohydrates
2 g
Fiber
0 g
Protein
28 g
Sodium
365 mg