Prairie Spice Cake
Baking with canola oil can reduce your saturated fat intake. Check out the charts and conversions page of the recipe section of our website to learn how to convert your solid baking recipes to canola oil.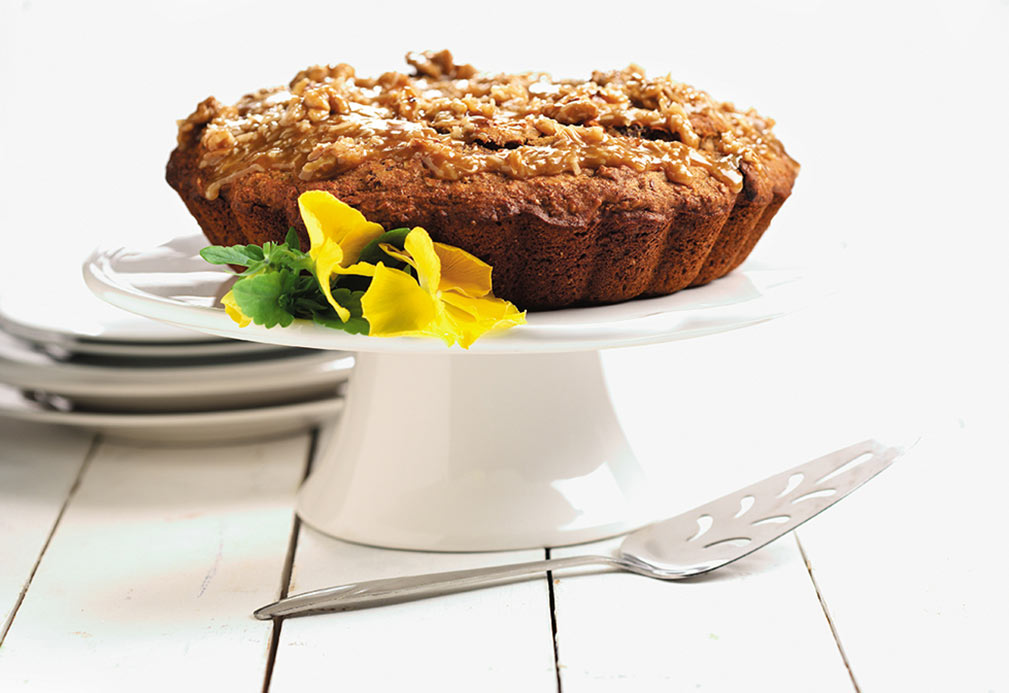 Ingredients
Spice Cake
 1/2 cup rolled oats 125 mL
1 1/2 cups whole wheat flour or multigrain flour 375 mL
1/4 cup barley flour 60 mL
1/2 tsp salt 2 mL
1 tsp ground cinnamon 5 mL
1 tsp baking soda 5 mL
1/4 cup flax 60 mL
2 tsp baking powder 10 mL
1/4 cup ground flax 60 mL
1/2 cup canola oil 125 mL
2 eggs
1 tsp vanilla extract 5 mL
2/3 cup honey 150 mL
1 1/2 cups lentil puree* 375 mL
1/2 cup raisins 125 mL
1/2 cup chopped dates 125 mL
Icing
2/3 cup packed brown sugar 150 mL
1/4 cup non-hydrogenated canola margarine 60 mL
2 Tbsp cream or milk 30 mL
1/4 cup coconut 60 mL
1/4 cup walnuts or pecans 60 mL
Instructions
1. In bowl combine rolled oats, whole wheat flour, barley flour, salt, cinnamon, baking soda, flax, baking powder and ground flax.
2. In another bowl mix together canola oil, eggs, vanilla extract, honey and 1 cup (250 mL) lentil puree. Mix and add remaining 1/2 cup (125 mL) of lentil puree. Combine flour mixture, raisins and dates to lentil puree. Spread mixture into a 9 x 13 (22 x 33 cm) cake pan and bake for 25 to 30 minutes in 350 °F (180 °C) oven. Icing with Broiler Icing.
3. To make icing: Combine all ingredients together in small saucepan. Heat and stir until hot and sugar is dissolved. Spread over cake. Return to oven until it bubbles well, about 3 to 5 minutes.
Note: Can substitute cake pan for fluted 8 cup (4 L) bundt pan.
*To Make Lentil Puree: Wash 1 1/2 cups (375 mL) lentils. In a sauce pan cover lentils with 3 3/4 cups (925 mL) of water. Bring to a boil and reduce heat. Cover and simmer until lentils are tender about 40 to 50 minutes. Drain, reserving the stock. Blend lentils, adding enough stock to make puree the consistency of canned pumpkin. As puree forms, stop and mix often until puree is smooth.
Yield
16 servings
serving size
1 serving
nutritional analysis
Per Serving
Calories
320
Total Fat
14 g
Saturated Fat
3 g
Cholesterol
30 mg
Carbohydrates
45 g
Fiber
6 g
Protein
6 g
Sodium
250 mg