Roasted Trout with Avocado-Mango Salsa
This is a basic recipe for roasting fish – quick, easy, and simple. The salsa is made with canola oil because its neutral taste doesn't overpower the natural flavors of the mango. You can also use the salsa as a dip or to add extra flair to other entrees. This dish tastes fantastic served with black beans or brown rice.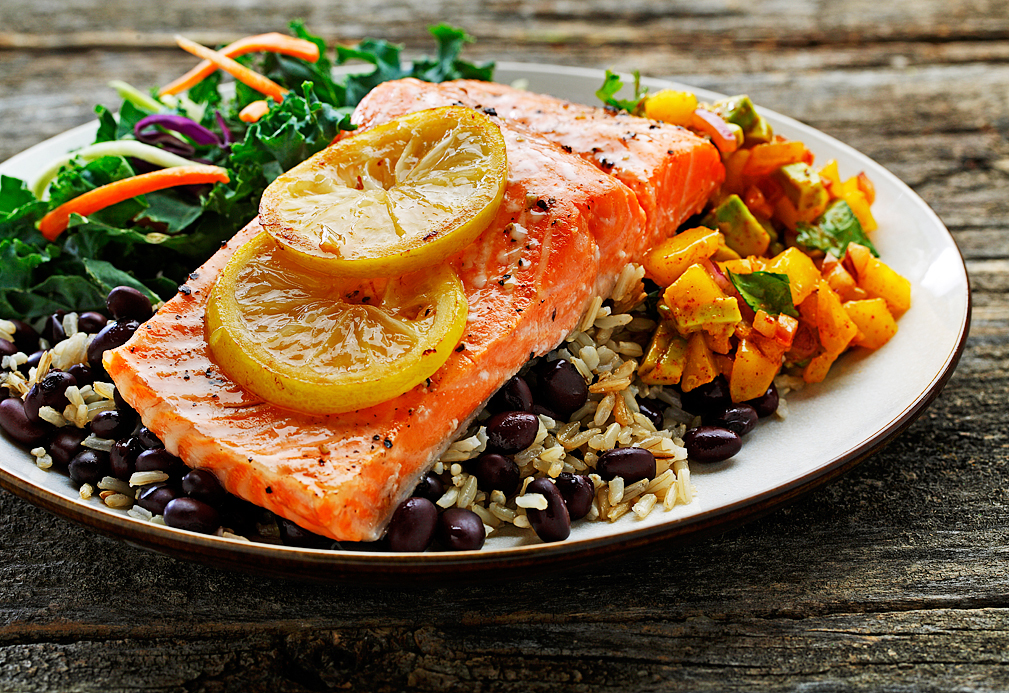 Ingredients
For trout:
4 (4-oz/120 g) trout fillets
Canola oil cooking spray
Juice of 1 lemon or (about 3 Tbsp/45 mL)
1 Tbsp canola oil 15 mL
1/4 tsp salt 1 mL
1/4 tsp ground black pepper 1 mL
2 lemons, whole
For salsa:
1 mango, peeled and cut into 1/2 inch (1,25 cm) cubes
1 medium avocado, peeled and cut into 1/2 inch (1,25 cm) cubes
1/2 red onion, diced
1 Tbsp lime juice 15 mL
1 Tbsp canola oil 15 mL
1 tsp chili pepper powder 5 mL
2 Tbsp cilantro, chopped 30 mL
1/2 tsp salt 2 mL
Instructions
For trout:
1. Preheat oven to 375° F (190° C).
2. Spray a 9 x 9 inch (22 x 22 cm) roasting pan or baking sheet with the canola oil spray. Place fillets inside and coat them with lemon juice, canola oil, salt and pepper.
3. Slice whole lemons into thin rounds, and remove seeds from each slice. Distribute slices equally among trout fillets.
4. Roast fillets for 15-20 minutes, depending on thickness of fillets. Fish should be translucent and flakes easily when pulled apart.
For salsa:
1. Place mango, avocado, onion, lime juice, canola oil, chili powder, cilantro and salt in a small mixing bowl and mix to combine. Salsa will keep in the refrigerator for two to three days.
Yield
4
serving size
1 fillet and 1/2 cup (125 mL) salsa
nutritional analysis
Calories
390
Total Fat
19 g
Saturated Fat
2.5 g
Cholesterol
95 mg
Carbohydrates
22 g
Fiber
4 g
Sugars
14 g
Protein
35 g
Sodium
50 mg
Potassium
1175 mg