Rosemary Beef Patties with Dark Brandy Sauce
These beef patties don't go on a bun; they are made with rosemary, topped with a brandy sauce and served with mushrooms.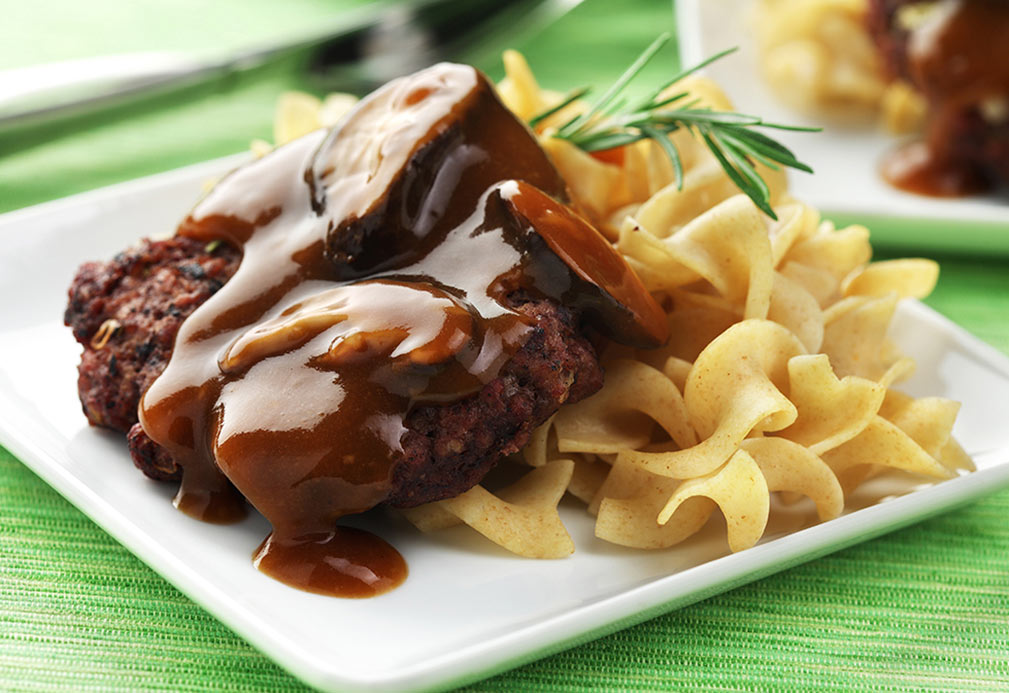 Ingredients
4 oz dry whole grain egg noodles 125 g
1 lb extra lean ground beef 500 g
1/4 cup finely chopped green onions 60 mL
2 tsp chopped fresh rosemary 10 mL
2 medium garlic cloves
1/4 tsp salt 1 mL
1/2 tsp coarsely ground black pepper 2 mL
1 Tbsp canola oil 15 mL
6 oz sliced shiitake mushroom caps or sliced white mushrooms 170 g
1 Tbsp all-purpose flour 15 mL
3/4 cup reduced sodium beef broth 175 mL
1/4 cup brandy 60 mL
1/2 tsp granulated sugar 2 mL
1/4 tsp salt 1 mL
chopped rosemary (optional)
Instructions
1. Prepare pasta according to package directions, omitting any salt or oil.
2. In large bowl, combine ground beef, onions, rosemary, garlic, 1/4 tsp (1 mL) salt and black pepper. Shape into 4 equal patties.
3. In large nonstick skillet, heat 1/2 Tbsp (7 mL) canola oil over medium-high heat. Cook patties 4 minutes on each side or until no longer pink in center. Remove from skillet, set aside on separate plate and cover to keep warm.
4. Reduce heat to medium. Heat remaining 1/2 Tbsp (7 mL) canola oil in pan drippings, cook mushrooms for 3 minutes or until tender, stirring frequently. Sprinkle flour evenly over mushrooms; stir until well blended. Gradually add broth, brandy, sugar and remaining salt. Stir to blend and cook 2 minutes or until reduced to 1 cup mixture.
5. To serve, place egg noodles on serving platter and top with beef patties and any accumulated juices. Spoon mushroom sauce over all. Sprinkle with additional chopped rosemary if desired.
Yield
4 servings
serving size
1/2 cup (125 mL) egg noodles, 3 oz (90 g) cooked beef and 1/4 cup (60 mL) mushroom sauce
nutritional analysis
Per Serving
Calories
330
Total Fat
10 g
Saturated Fat
2 g
Cholesterol
85 mg
Carbohydrates
25 g
Fiber
2 g
Protein
29 g
Sodium
380 mg