Rosemary Feta Pearl Couscous Salad
Pearl couscous looks just like that … pearls! These tender bits of pasta are tossed with crunchy red peppers and cucumber, white beans, feta, a generous amount of herbs and a splash of fresh lemon. Light canola oil combines it all together nicely. You'll never think of pasta salad the same way again!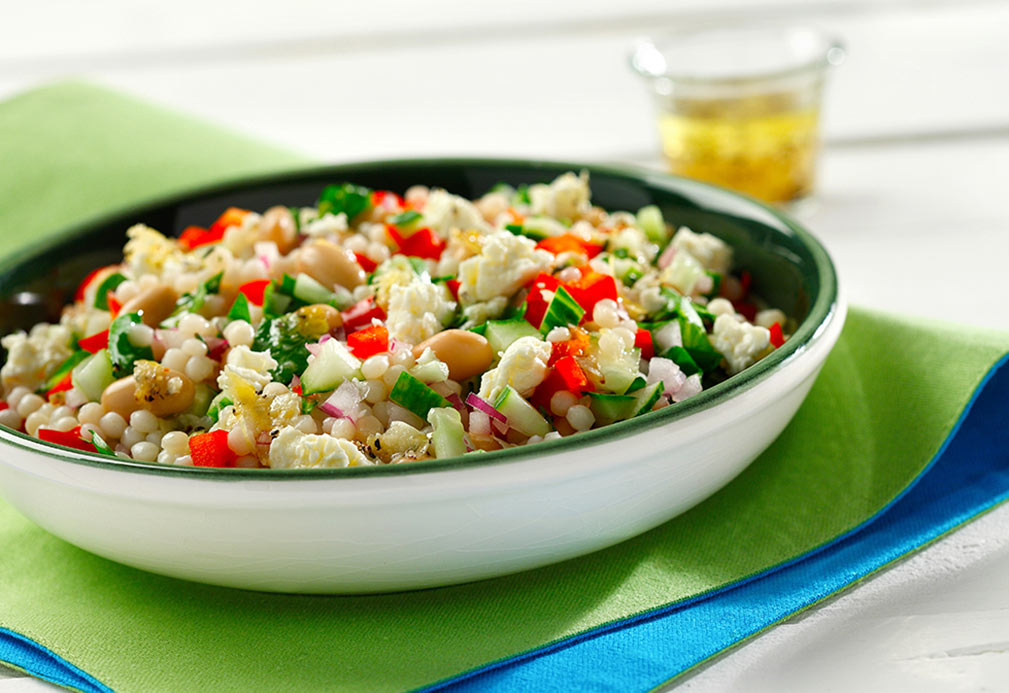 Ingredients
2 cups water 500 mL
3/4 cup uncooked whole wheat or regular pearl or Israeli couscous 175 mL
1 medium red bell pepper, seeded and diced
1 medium cucumber, seeded and diced
1/3 cup finely chopped red onion 75 mL
1 cup lightly packed spinach, coarsely chopped 250 mL
1/2 can (15-oz/426 mL) no-salt-added navy or cannellini beans, rinsed and drained
1 Tbsp fresh chopped rosemary 15 mL
1 medium garlic clove, minced
2 Tbsp canola oil 30 mL
1 tsp grated lemon zest 5 mL
2 Tbsp fresh lemon juice 30 mL
1 Tbsp cider vinegar 15 mL
1/2 tsp salt 2 mL
1/4 tsp coarsely ground black pepper 1 mL
3/4 cup reduced-fat feta, crumbled 175 mL
Instructions
1. In a medium saucepan, bring water to boil over high heat. Stir in couscous, return to a boil, reduce heat, cover tightly and simmer 10-12 minutes or until tender. Drain in fine mesh sieve and run under cold water to cool completely. Shake off excess liquid.
2. Meanwhile, in a large bowl, combine pepper, cucumber, onion, spinach, beans, rosemary, garlic, canola oil, zest, lemon zest and juice, vinegar, salt and pepper.
3. Stir in couscous and toss until well blended. Gently stir in feta.
Yield
10 servings
serving size
1/2 cup (125 mL)
nutritional analysis
Per Serving
Calories
120
Total Fat
4.5 g
Saturated Fat
1 g
Cholesterol
5 mg
Carbohydrates
16 g
Fiber
4 g
Sugars
2 g
Protein
5 g
Sodium
260 mg