Salmon with Cilantro Crust
This recipe is so good you will want an extra serving. Salmon is known for its heart-health benefits, and becomes even healthier when cooked with canola oil, which has more plant-based omega-3 fat than any other common vegetable oil.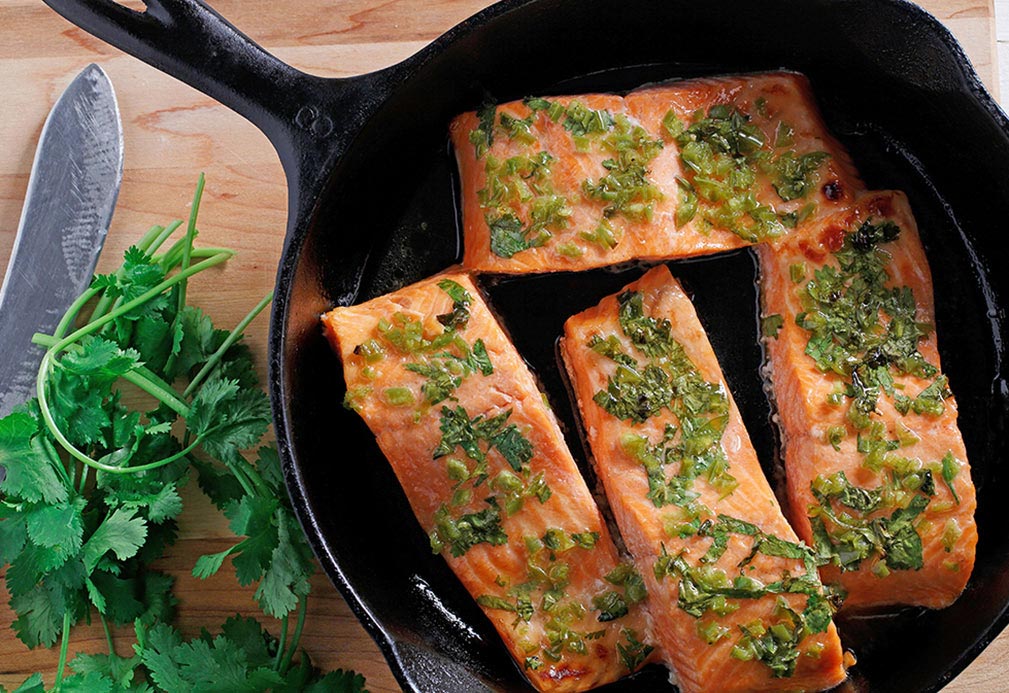 Ingredients
2 Tbsp lime juice 30 mL
2 Tbsp chopped cilantro 30 mL
1 Tbsp finely chopped serrano or jalapeño pepper, seeded and deveined 15 mL
4 (4 oz/125 g) salmon fillets
1/4 tsp salt 1 mL
1 Tbsp honey 15 mL
1 Tbsp canola oil 15 mL
Instructions
1. Preheat oven to 350 °F (180 °C).
2. In small bowl, combine lime juice, cilantro and serrano or jalapeño pepper.
3. Season salmon with salt. Spread honey over top of salmon fillet. Then firmly press cilantro mix into honey.
4. In oven-safe skillet or on grill, sear salmon just on skin side. Finish salmon in oven for 10 minutes or until fish just starts to flake.
Yield
4 servings
serving size
1 salmon fillet
nutritional analysis
Per Serving
Calories
193
Total Fat
9 g
Saturated Fat
1 g
Cholesterol
52 mg
Carbohydrates
5 g
Fiber
0 g
Sugars
4 g
Protein
23 g
Sodium
231 mg
Potassium
430 mg