Savory Spinach Bacon Ricotta Fritters
Recipe developed at The Culinary Institute of America (CIA) by Chef Instructor Brenda La Noue. See Chef Almir Da Fonseca prepare the recipe in the video.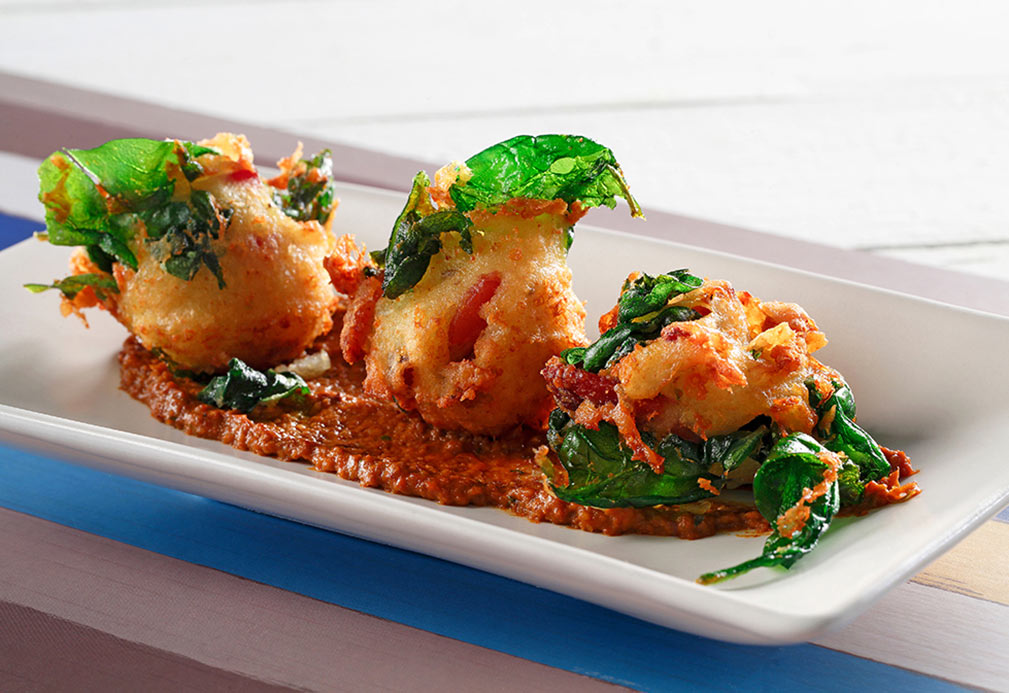 Ingredients
4 bacon slices, finely chopped
4 cups baby spinach 1 L
2 eggs
2 oz Parmesan cheese, grated
1 cup Ricotta cheese 250 mL
1 tsp lemon zest 5 mL
2/3 cup flour 150 mL
1/4 tsp salt 1 mL
1/4 tsp pepper 1 mL
1/4 tsp cayenne pepper 1 mL
4 cups canola oil 1 L
Sauce:
Instructions
1. Heat saute pan over medium heat. Add bacon and render the fat; once fat has rendered, add  spinach and sauté 1 to 2 minutes, until wilted. Place in colander to drain well. Let cool.
2. Combine eggs, Parmesan cheese and ricotta cheese. Gently mix in drained spinach-bacon mixture, lemon zest and flour. Add salt, pepper and cayenne. Mix to just to combine or the mixture will become tough. Place in refrigerator for 15 minutes.
3. In a saucepan or deep fryer, heat canola oil to 350 °F (180 °C).
4. Using small scoop, drop tablespoon-size rounds of batter into hot canola oil. The oil should sizzle around dough. Let the fritters cook on one side until golden brown, then use tongs to flip fritters over and cook until golden brown and cooked through. Drain well on paper towels and serve immediately with Romesco Sauce. See recipe link below for directions on making Romesco Sauce.
.
Yield
6 servings
serving size
3 fritters
nutritional analysis
Calories
540
Total Fat
48 g
Saturated Fat
9 g
Cholesterol
95 mg
Carbohydrates
14 g
Fiber
1 g
Sugars
1 g
Protein
15 g
Sodium
530 mg
Potassium
134 mg