Scallops with Snow Peas
Symbolically, this dish represents wealth with the scallops as coins and the snow peas as money and is a dish that is usually served at special dinners for wedding banquets and to Chinese New Years. The red from the red pepper symbolizes good luck. One of the secrets to stirfrying scallops easily is to lightly toss them with a little canola oil before adding them to the hot wok. This techique can be done with beef and chicken as well which prevents it from sticking to the hot wok or skillet.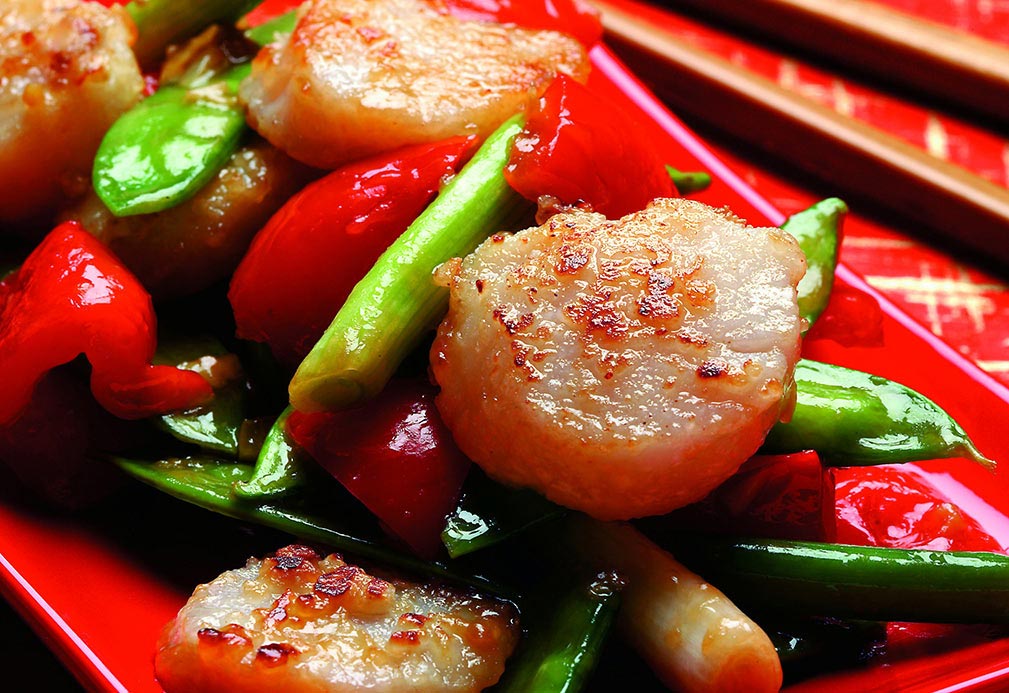 Ingredients
1 lb sea scallops 500g
2 Tbsp plus 2 tsp (5 mL) cornstrach 30 mL
1 tsp plus 1 Tbsp (15 mL) sodium reduced soy sauce 5 mL
2 tsp Shao Hsing rice cooking wine or dry sherry 10 mL
2 tsp sesame oil 10 mL
2 tsp granulated sugar 10 mL
1/3 cup low sodium chicken broth 75 mL
2 tsp oyster sauce 10 mL
1/2 tsp salt 2 mL
3 Tbsp canola oil 45 mL
2 tsp minced ginger 10 mL
1 tsp minced garlic 5 mL
1 medium red bell pepper, cut into 1-inch dice
5-6 oz snow peas, stringed and rinsed 140-170g
2 green onions, cut into 1 1/2-inch lengths
Instructions
1. Rinse scallops in cold water, drain well in a colander and pat dry with paper towels. Cut each scallop lengthwise in half to make coins. Mix together in a medium bowl, 2 Tbsp (30 mL) cornstarch, 1 tsp (5 mL) soy sauce, 1 tsp (5 mL) cooking wine or dry sherry, 1 tsp (5 mL) sesame oil and 1 tsp (5 mL) sugar. Add scallops and gently mix to combine; set aside.
2. In a small bowl, mix together the remaining cornstarch, soy sauce, rice cooking wine, sesame oil, sugar and the chicken broth, oyster sauce and salt. Set aside.
3. Add 1 Tbsp (15 mL) of the canola oil into the scallop mixture and mix well. Heat a 14-inch flat bottomed wok or skillet over high heat until hot but not smoking. Swirl 1 Tbsp (15 mL) of the canola oil over the wok and add the scallops, spreading them onto the wok. Cook undisturbed 1 to 2 minutes until they start to brown, then stirfry using a metal spatula for a further 1 to 2 minutes until the scallops are firm an slightly brown. Remove and set aside on a warm plate.
4. Wash the wok and dry completely. Heat the wok over high heat and add the remaining canola oil. When hot, add the ginger and garlic and stir fry for 10 seconds. Add the bell peppers, snow peas and green onions and stirfry 2 to 3 minutes or until the peppers start to soften. Mix the sauce mixture again and swirl into the wok. Add the scallops and any collected juices and stirfry for another 1 to 2 minutes or until the sauce has thickened and the scallops are just cooked through. Transfer to a warm serving platter.
Yield
6 servings as part of a multi-course dinner
serving size
nutritional analysis
Per Serving
Calories
180
Total Fat
9 g
Saturated Fat
1 g
Cholesterol
25 mg
Carbohydrates
10 g
Fiber
1 g
Protein
14 g
Sodium
530 mg