Shredded Chicken Tostadas with Spicy Tomato Salsa
These zesty tostadas are sure to please the whole family with chicken, grilled tomatoes and garlic, avocado and just enough spice from a chipotle chile.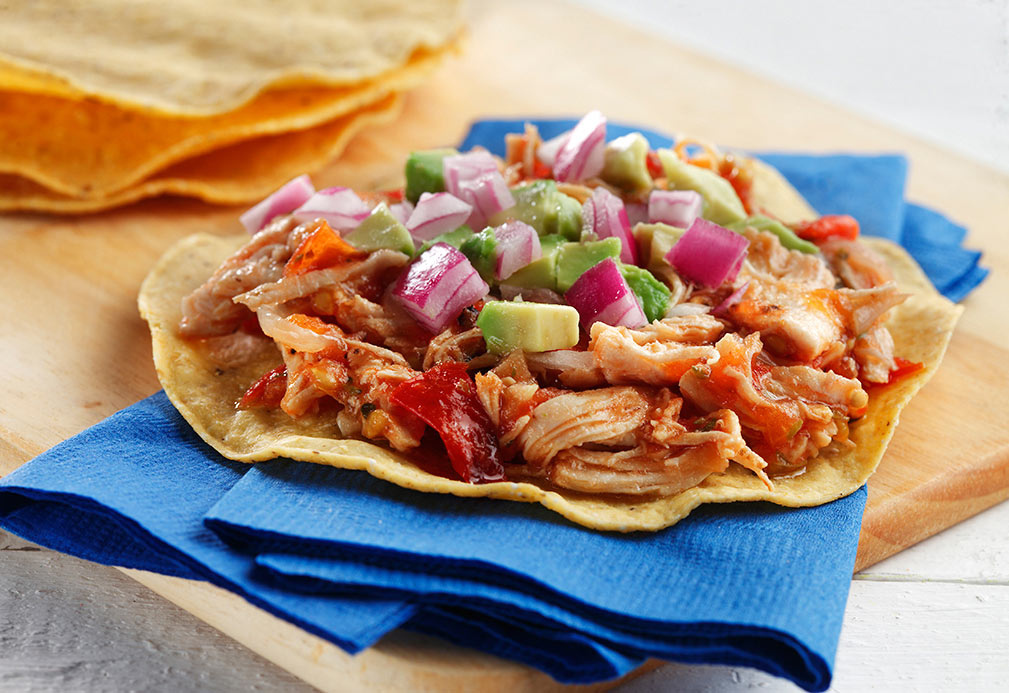 Ingredients
1 Tbsp canola oil 15 mL
2 cloves garlic, chopped, divided
1/4 onion, sliced into strips
2 to 3 chicken breasts, 12 oz (350 g), cooked and shredded
1/2 tsp pepper 2 mL
3 tomatoes, grilled*
2 Tbsp chopped pickled jalapeños** 30 mL
1/2 cup water 125 mL
1/2 tsp fresh oregano, chopped 2 mL
1 chipotle chile, chopped
4 corn tostadas
1/2 small red onion, diced
1/2 avocado, diced
Instructions
1. In sauté pan, heat canola oil over medium-high heat. Add half of garlic and onion and sauté until brown. Add shredded chicken and pepper. Cook until heated through.  
2. In saucepan over medium heat, combine tomatoes, remaining garlic, jalapeños, water, oregano and chipotle chile. Bring to a boil. Remove from heat.
3. To serve, warm tostadas and divide chicken mixture equally on each tostada. Garnish with onion and avocado.
Note: * To grill tomatoes, slice in half and remove pulp and seeds over sink. Place face down on grill or grill pan for 2 to 4 minutes.
** Beware, this dish is spicy hot, so use fewer jalapeños to tame it down to taste.
Yield
4 servings
serving size
1 tostada
nutritional analysis
Per Serving
Calories
280
Total Fat
10 g
Saturated Fat
1.5 g
Cholesterol
50 mg
Carbohydrates
25 g
Fiber
5 g
Protein
23 g
Sodium
220 mg