Slow and Easy Turkey Breast with Dill
Turkey should be served more than a few times a year. It's economical, oh-so-good for an entrée and yields great leftovers for limitless recipes. Take a break from the norm of sage or rosemary and try a garden fresh, lemon-dill approach on your turkey. Canola oil lets these bright flavors shine through. Slow cooking also helps the dish retain its juices for an extra rich and effortless au jus.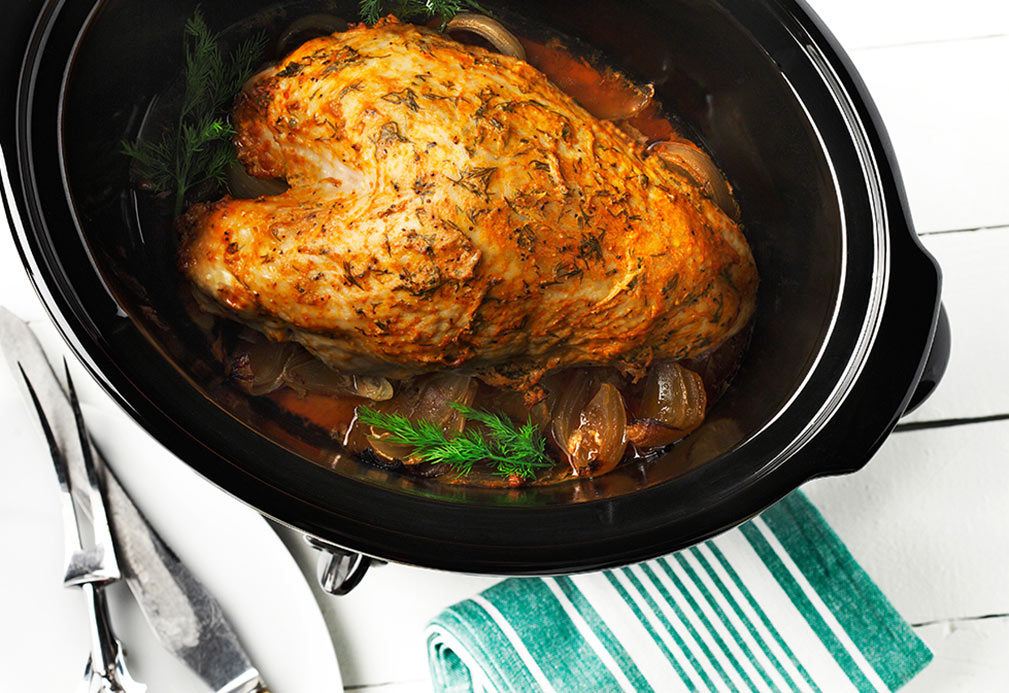 Ingredients
1 medium onion, cut in 8 wedges
3 Tbsp Dijon mustard 45 mL
grated rind and juice of 1 large lemon
2 Tbsp canola oil 30 mL
3 Tbsp chopped fresh dill weed 45 mL or 1 Tbsp dried dill weed 15 mL
1 tsp garlic powder 5 mL
1 tsp paprika 5 mL
1/2 tsp coarsely ground black pepper 2 mL
1/4 tsp Cayenne pepper 1 mL
6 lb frozen bone-in turkey breast, thawed 2.7 kg 
Instructions
1. In slow cooker, place onions. 
2. In small bowl, whisk together mustard, lemon rind and juice, canola oil, dill weed, garlic powder, paprika, black pepper and Cayenne pepper. 
3. Place turkey on clean work surface. Carefully loosen skin from breast by inserting fingers and gently pushing between skin and meat. Place dill mixture under skin and over breast meat, being careful not to tear skin. Rub any remaining dill mixture evenly over turkey breast. Place turkey in slow cooker, breast side up. Cover and cook on high setting 1 hour. Reduce heat to low setting and continue cooking 4 hours until meat thermometer inserted in thickest part of breast registers 165 °F (75 °C). 
4. Remove turkey, place on cutting board and let stand 20 minutes before carefully removing skin (keeping seasonings on breast), discarding skin and slicing turkey. 
5. Meanwhile, remove onions with slotted spoon and discard. Pour pan drippings into 2-cup (500 mL) measuring cup, place in freezer for 15 minutes to cool slightly. Pour pan drippings in quart-size (1.13L), resealable plastic bag. Place bag over medium bowl, angle bag to form a pastry bag and allow fat to rise to top. Snip pointed end and allow drippings to flow into bowl, stopping flow before layer of fat flows through. Discard fat. Serve pan juices with sliced turkey. If necessary, reheat juices by placing in small saucepan and bring just to boil over medium high heat. 
Yield
12 servings
serving size
About 3 1/2 oz (105 g) cooked turkey and 2 Tbsp (30 mL) au jus
nutritional analysis
Per Serving
Calories
360
Total Fat
7 g
Saturated Fat
1.5 g
Cholesterol
180 mg
Carbohydrates
1 g
Fiber
0 g
Sugars
0 g
Protein
68 g
Sodium
320 mg
Potassium
585 mg