Slow Cooked, Spiced Pulled Pork Wraps
A twist on the popular Southern barbecue dish, this "pulled pork" is infused with rich, exotic flavors, plus hints of chili and orange. Canola oil's mild taste helps those flavors sparkle. The meat is wrapped in tortillas and garnished with shredded lettuce, cilantro or mint sprigs, green onions and a dash of sour cream for a sensational meal.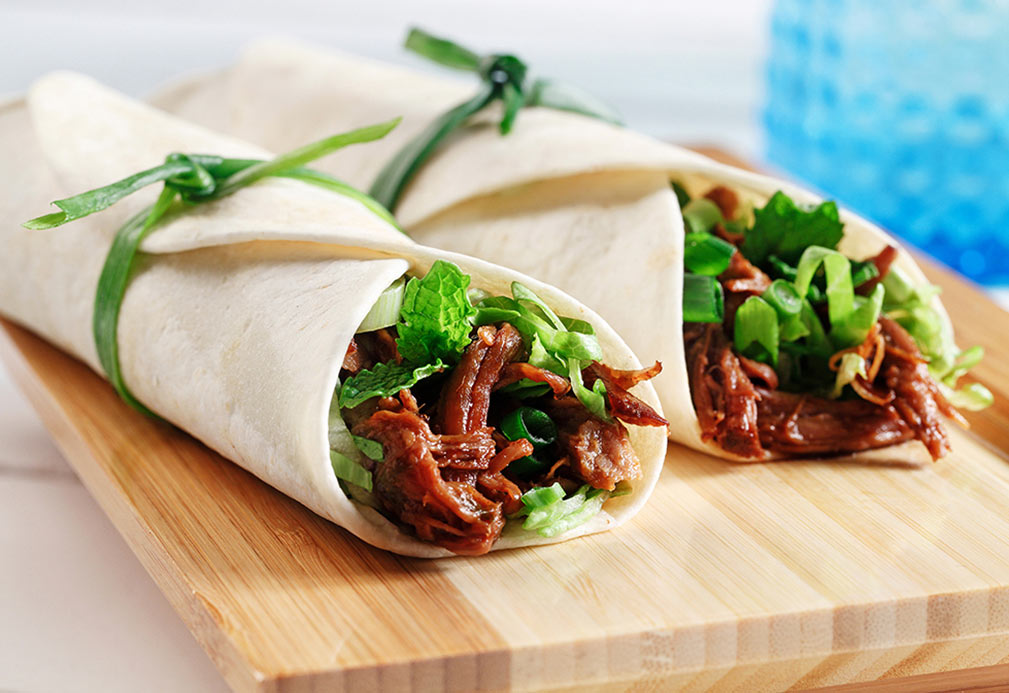 Ingredients
1/4 cup hoisin sauce 60 mL
1 1/2 tsp Chinese chili garlic sauce 7 mL
1/2 cup dark soy sauce 125 mL
2 Tbsp canola oil 30 mL
2 Tbsp finely grated ginger 30 mL
3 garlic cloves, finely minced
2 Tbsp orange zest 30 mL
1/3 cup orange juice 75 mL
1 tsp Chinese five-spice powder 5 mL
1/2 tsp dried chili flakes 2 mL
1 tsp sea salt 5 mL
3 Tbsp brown sugar 45 mL
2 green onions, finely chopped
1 pork shoulder roast (3 lbs or 1 1/2 kg), trimmed of excess fat
1 cup chicken broth 250 mL
12 small flour tortillas, warmed
3 cups shredded iceberg lettuce 750 mL
3/4 cup cilantro or mint sprigs 175 mL
3/4 cup chopped green onions 175 mL
3/4 cup sour cream 175 mL
Instructions
1. In mixing bowl, whisk hoisin, chili and soy sauces, canola oil, ginger, garlic, orange zest and juice, five-spice powder, chili flakes, salt and brown sugar until well blended and sugar has dissolved. Mix in green onions. Place roast into large resealable bag and pour in marinade. Seal and refrigerate, turning a few times while marinating 2 to 3 hours.
2. Remove roast, reserving excess marinade, and place into slow cooker. Stir chicken broth into reserved marinade and pour over roast. Cover, set cooker on high and cook for 4 hours. Then reduce heat to low and cook another 2 hours or until meat is tender and has reached 160 °F (71 °C).
3. Remove meat, cover with foil and let rest 15 minutes. Pour cooking liquid into measuring cup and skim off excess fat. Place roast on cutting board and shred with two forks. Return meat to slow-cooker. Add some of reserved cooking liquid, as desired, to shredded meat and mix well.
4. To serve, place about 1/2 cup (125 mL) pork mixture onto warm tortilla. Garnish with shredded lettuce, cilantro and green onions. Roll and serve immediately. The pork can be made ahead and covered with foil, reheated until warm and moistened with reserved cooking liquid.
Yield
12 servings
serving size
1 tortilla, 1/4 cup lettuce (60 mL), 1 Tbsp (15 mL) sour cream, 1 Tbsp (15 mL) chopped green onions, 1 Tbsp (15 mL) cilantro or mint springs and 3/4 cup (175 mL) meat
nutritional analysis
Per Serving
Calories
460
Total Fat
23 g
Saturated Fat
7 g
Cholesterol
80 mg
Carbohydrates
34 g
Fiber
2 g
Sugars
8 g
Protein
26 g
Sodium
1410 mg
Potassium
617 mg