Smoked Salmon Eggs Benedict with Creamy Dill Caper Sauce
This dish takes Eggs Benedict to new heights with silky, smoked salmon and a creamy sauce laced with dill and capers. Full of decadent flavor and so much healthier than traditional Hollandaise, the sauce made with canola oil is a heavenly alternative.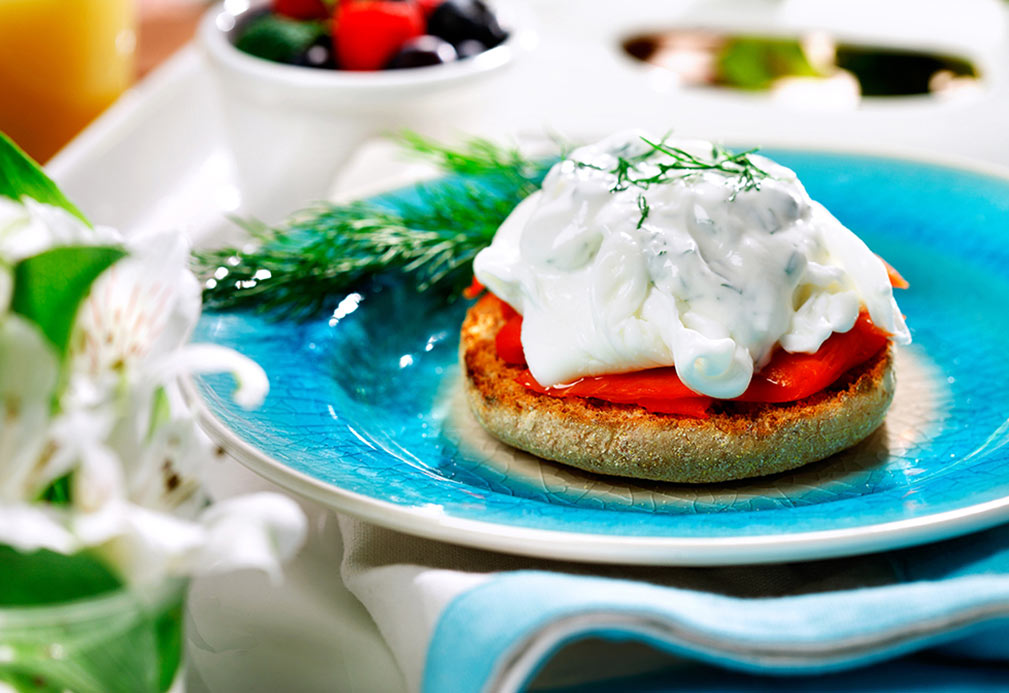 Ingredients
1/2 cup nonfat plain yogurt 125 mL
1 Tbsp canola oil 15 mL
1 tsp fresh lemon juice 5 mL
1 Tbsp chopped fresh dill, plus sprigs for garnish 15 mL
1 Tbsp capers, drained 15 mL
1/2 tsp finely grated lemon zest 2 mL
2 whole-grain English muffins
3 oz thinly sliced smoked salmon 90 g
4 medium eggs
3 Tbsp white wine vinegar 45 mL
Instructions
1. In medium bowl, whisk yogurt and canola oil until blended. Whisk in lemon juice, then stir in chopped dill, capers and lemon zest.
2.Toast English muffins. Place slice or two of salmon on top of each English muffin half.
3. Fill large, deep skillet about 3/4-inch (2 cm) to top with water and bring to boil over high heat. Add vinegar, then reduce heat to medium-low. Crack egg into small bowl, then gently add it to boiling water. Repeat with remaining eggs until all four eggs are in skillet. Cook until whites of eggs are set but yolks are still slightly runny, about 3 minutes. Use slotted spoon to transfer eggs to paper towel to drain. (Alternatively, cook eggs over-easy in nonstick skillet.)
4. Transfer each egg to salmon-topped English muffin half. Pour 2 Tbsp. (30 mL) of sauce on top of each muffin and garnish each with sprig of dill.
Yield
4 servings
serving size
1 piece
nutritional analysis
Per Serving
Calories
200
Total Fat
9 g
Saturated Fat
2 g
Cholesterol
170 mg
Carbohydrates
19 g
Fiber
2 g
Sugars
4 g
Protein
13 g
Sodium
390 mg
Potassium
102 mg