Smoked Yukon Gold Potato Salad
Recipe developed at The Culinary Institute of America by Chef Instructor Brenda La Noue. See Chef Almir Da Fonseca prepare the recipe in the video below.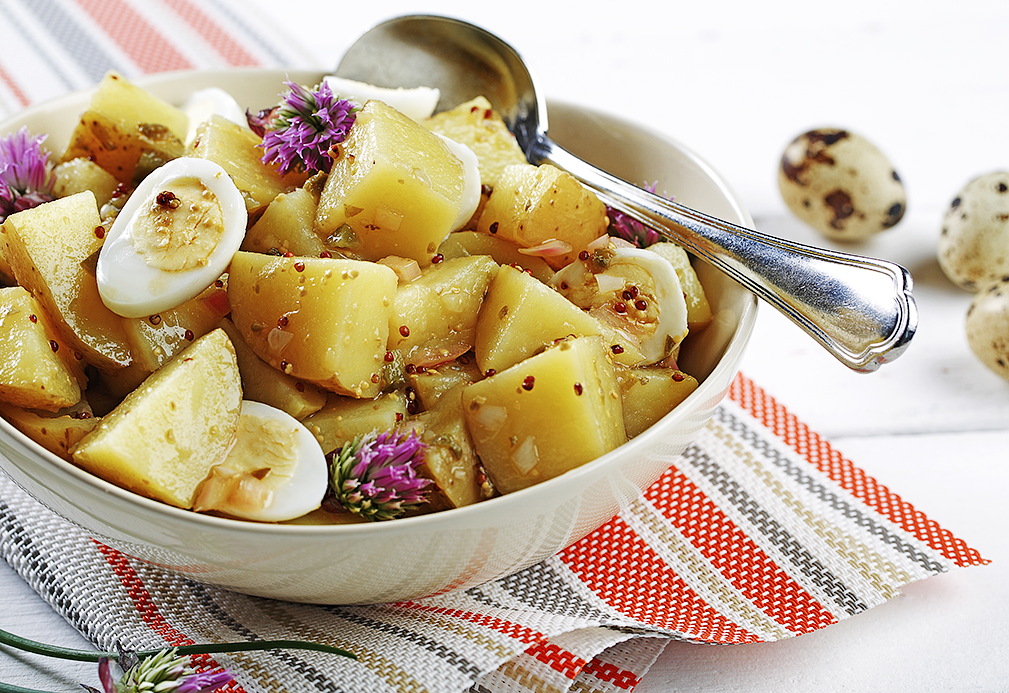 Ingredients
1 lb Yukon gold potatoes, medium
3 wood chips
6 quail eggs, boiled and halved
12 Society garlic blossoms
1/4 cup Gribiche Oil
1/4 tsp salt
1/4 tsp pepper
Instructions
1. Wash the potatoes well. Place in a pot of salted water and cook until tender, about 12 to 15 minutes. Remove from pot and rinse with cold water until the potatoes are cool. Drain well.
2. Soak the mesquite wood chips in water for 15 minutes.
3. Turn on the grill and place a few wet pieces of mesquite wood on the coals.
4. Place the potatoes in an uncovered, shallow aluminum pan on the grill. Make sure that the wood chips are generating smoke, then close grill lid. Smoke the potatoes for about 7 to 10 minutes, until the potatoes have a smoky essence. Remove from the pan and cool. Once cool, dice the potatoes into 1-inch pieces.
5. In a large bowl, toss the potatoes with the society garlic blossoms and the gribiche oil. Season with salt and pepper, then gently fold in the quail eggs. Serve warm, garnished with more garlic blossoms.
Yield
4 to 5 half-cup portions
serving size
nutritional analysis
Calories
160
Total Fat
8 g
Saturated Fat
1 g
Cholesterol
110 mg
Carbohydrates
18 g
Fiber
1 g
Sugars
0 g
Protein
6 g
Sodium
190 mg
Potassium
13 mg