Spicy Ginger Beef & Rice Soup with Lime
Canola oil is the healthiest vegetable oil. It has no trans fats and the lowest saturated fat level of any commonly used vegetable oil.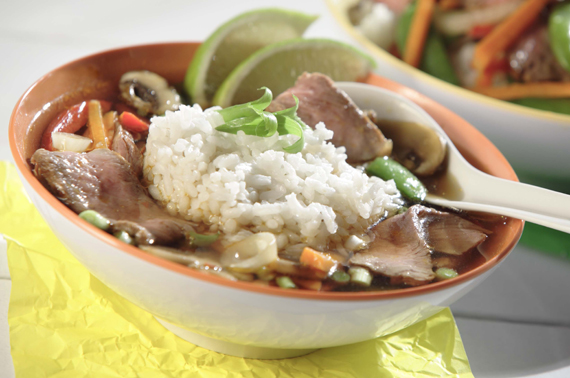 Ingredients
3 to 4 medium green onions
3 cups reserved cooked medium or long grain rice 750 mL
2 (14oz/400g) cans reduced sodium beef broth
4 cups reserved ginger beef stir fry 1 L
1 1/2 Tbsp grated ginger root 20 mL
1/8 tsp dried red pepper flakes .5 mL
1 medium lime, cut in wedges
Instructions
1. Thinly slice white parts of onions and set aside. Diagonally slice green tops of onions and set aside in separate bowl.
2. Place rice in microwave-safe bowl with 1/4 cup (50 mL) water. Cover with plastic wrap and microwave on high 2 minutes or until heated through.
3. In large saucepan, bring broth to boil over high heat. Add stir fry mixture, white part of onions, ginger and pepper flakes. Return to boil and then remove from heat.
4. Spoon equal amounts of soup into four bowls, mound 3/4 cup (175 mL) rice in center of each bowl and top with sliced onion greens. Serve with lime wedges.
Yield
4 servings
serving size
nutritional analysis
Per Serving
Calories
390
Total Fat
11 g
Saturated Fat
0 g
Cholesterol
55 mg
Carbohydrates
45 g
Fiber
4 g
Protein
32 g
Sodium
830 mg