Spinach Salad with Grilled and Fresh Fruit
Serving grilled fruit with fresh fruit not only makes a great-looking combination, but also provides two layers of flavor. See the recipe video below.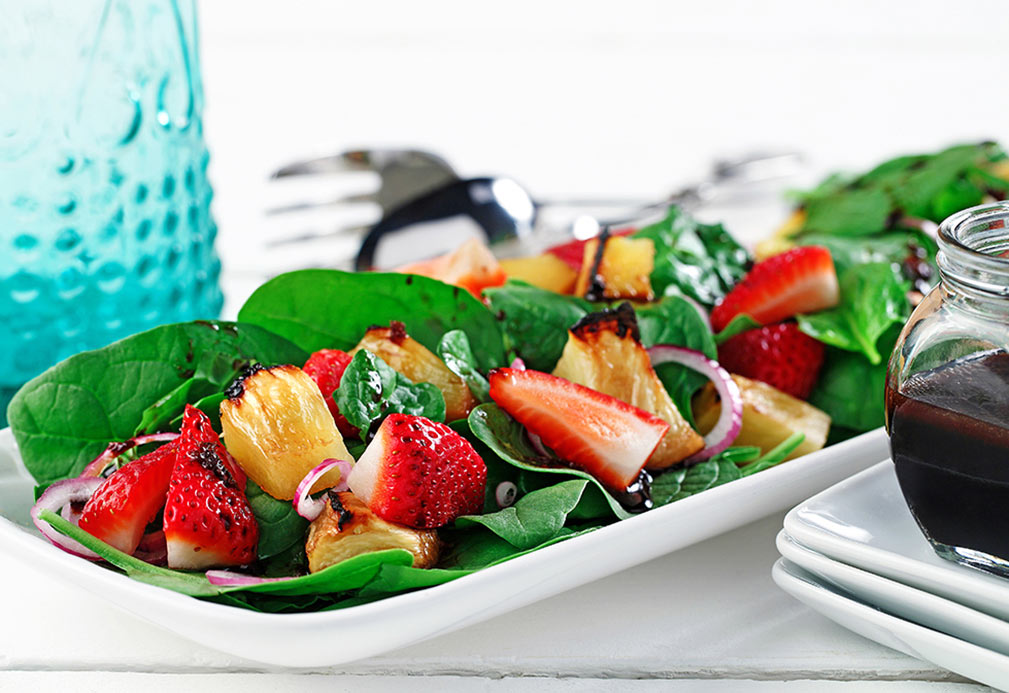 Ingredients
canola oil cooking spray
1/4 cup raspberry blush vinegar 60 mL
1 Tbsp sugar 15 mL
1 Tbsp canola oil 15 mL
1-2 tsp grated fresh ginger 5-10 mL
2 slices fresh pineapple, about 1/2-inch thick, or two medium peaches, pitted and halved
4 cups loosely packed spinach 1 L
1/4 cup thinly sliced red onion 60 mL
1 cup quartered strawberries 250 mL
Instructions
1. Coat grill or grill pan with cooking spray and place over medium-high heat.
2. Combine vinegar, sugar, canola oil, and ginger in a small jar, secure lid tightly, and shake vigorously until completely blended. Place pineapple slices or peach halves on plate; drizzle 1 Tbsp (15 mL) vinegar mixture evenly over both sides.
3. Place pineapple or peaches on grill rack and grill 4 minutes or until soft and slightly browned. Turn and cook 4 minutes or until heated through. Cut fruit into bite-size pieces.
4. Place spinach and onion on a serving platter. Top with grilled fruit, sprinkle strawberries evenly on top, and drizzle remaining dressing over all.
Fresh tip: Be creative on the grill. Try nectarines, pears, or even orange slices. Brushing the fruits with a small amount of canola will prevent them from sticking to the grill. If raspberry blush vinegar is unavailable, regular raspberry vinegar may be substituted.
Yield
4 servings
serving size
1 3/4 cups (425 mL)
nutritional analysis
Per Serving
Calories
95
Total Fat
3.5 g
Saturated Fat
0.3 g
Cholesterol
0 mg
Carbohydrates
16 g
Fiber
2 g
Protein
1 g
Sodium
15 mg