Spinach Stuffed Manicotti with All Purpose Tomato sauce
Try this delicious manicotti dish served with homemade tomato sauce.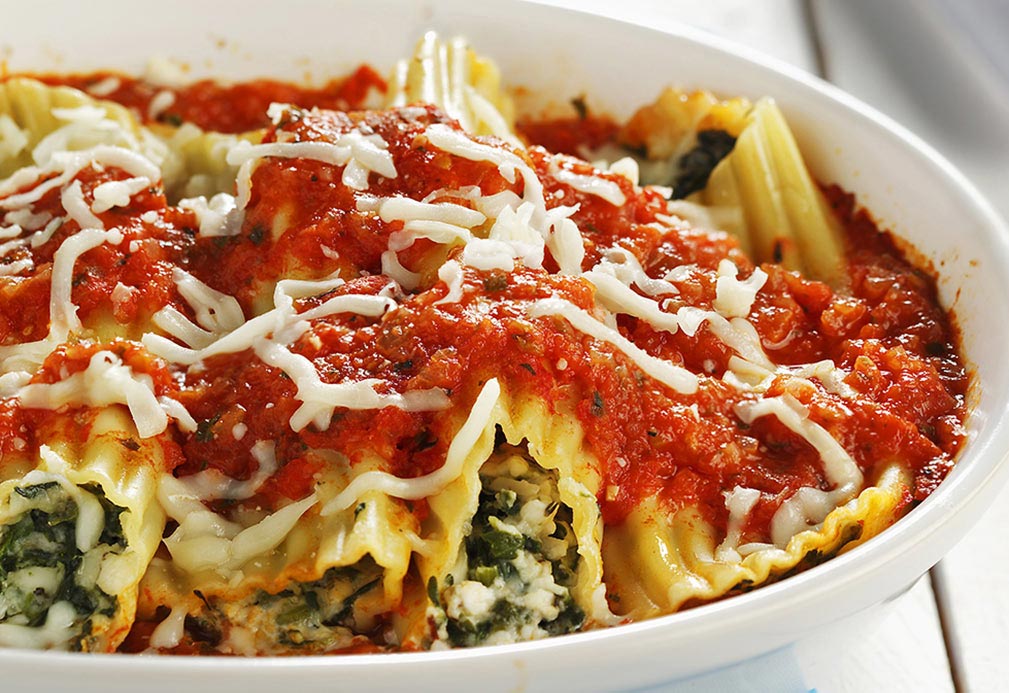 Ingredients
Tomato Sauce
3 Tbsp canola oil 45 mL
2 medium onions, chopped
2 cloves garlic, minced
1/2 cup red wine (or beef stock) 125 mL
2 (19 oz/540 mL) can diced tomatoes
3 Tbsp chopped fresh parsley 45 mL
2 Tbsp chopped fresh basil 30 mL
1 tsp granulated sugar 5 mL
1/2 tsp salt 2 mL
1/4 tsp black pepper 1 mL
Spinach Filling
1 (8 oz/225 g) pkg manicotti shells
2 cups 1% cottage cheese 500 mL
1 (10 oz/300 g) pkg frozen chopped spinach, thawed and drained
3/4 cup grated Parmesan cheese 175 mL
2 cloves garlic, minced
1 egg, beaten
1 Tbsp Italian seasoning 15 mL
1 cup reduced fat mozzarella cheese, shredded 250 mL
Instructions
1. To make all-purpose tomato sauce: In large saucepan, heat canola oil over medium-high heat. Add onions and cook 2-3 minutes, until onions have softened. Add garlic, cook and stir 1 more minute. Add remaining ingredients and bring to a boil.
2. Reduce heat and simmer over low heat about 35-45 minutes, stirring occasionally, until sauce has thickened slightly. Puree mixture in blender or food processor. Return to sauce pan.
3. To make manicotti: Bring a large pot of water to a boil. Lightly salt water and add manicotti noodles. Cook for about 10 minutes or until al dente. Drain and rinse under cold water. Preheat oven to 350 °F (180 °C).
4. To make spinach filling: In a food processor, puree cottage cheese until smooth. Add spinach, Parmesan cheese, garlic, egg and Italian seasoning to mixture. Mix until blended. Place cheese mixture into a plastic resealable bag and cut one of the corners. Place mixture into manicotti noodles.
5. Spread 1/2 of the tomato sauce over the bottom of a 9 x 13 inch ( 22 x 33 cm) baking dish. Arrange stuffed manicotti in dish and cover with the remaining tomato sauce. Sprinkle with mozzarella cheese.
6. Bake for 25 to 30 minutes or until mozzarella is melted and bubbling.
Yield
6 servings
serving size
1 cups (250 mL)
nutritional analysis
Per Serving
Calories
340
Total Fat
13 g
Saturated Fat
4 g
Cholesterol
45 mg
Carbohydrates
35 g
Fiber
5 g
Protein
21 g
Sodium
480 mg