Spring Rolls
Delicious spring rolls that are full of flavor. Dip in a sweet chili sauce!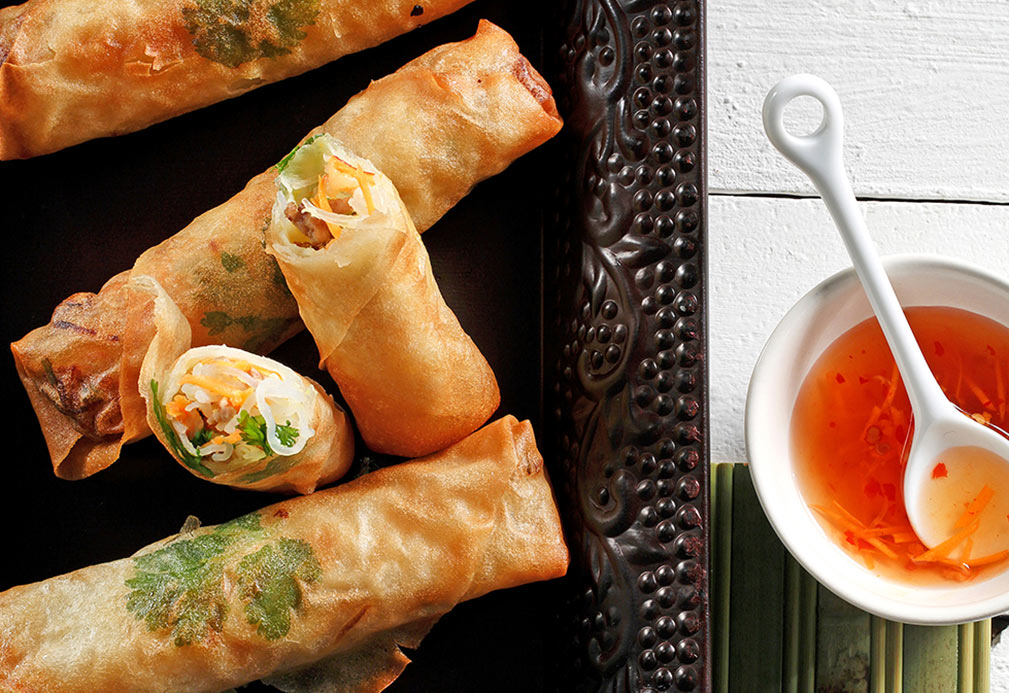 Ingredients
Spring Rolls
3 1/2 oz rice vermicelli (fine rice noodles) 50g
1 Tbsp canola oil 15 mL
1/2 lb lean ground pork 250g
1 clove garlic, crushed
1 tsp chopped fresh red chilies 5 mL
2 green onions, chopped
1 carrots, grated
2 Tbsp chopped fresh cilantro or 1/2 tsp (2 mL) dried 30 mL
1 tsp fish sauce 5 mL
7 oz cooked shrimp, chopped 100g
30 spring roll pastry sheets
1 Tbsp cornstarch 15 mL
2 Tbsp water 30 mL
3 cup canola oil 750 mL for deep frying
Vietnamese Dipping Sauce
2 garlic cloves, minced
1 tsp chili paste 5 mL
1/2 tsp dry crumbled chili flakes 2 mL
1/4 tsp fish sauce 1 mL
2 Tbsp lime juice 30 mL
2/3 cup warm water 150 mL
1/4 cup granulated sugar 60 mL
3 Tbsp grated carrot 45 mL
Instructions
1. In heatproof bowl, cover vermicelli with warm water, stand 10 minutes; drain well.
2. Heat canola oil in frying pan; add pork, garlic, and chilies, cook, stirring, until pork is browned. Add onion, carrot, cilantro, fish sauce, shrimp and vermicelli. Cook, stirring until heated through; cool.
3. Place 1 Tbsp (15 mL) of mixture on corner of each spring roll pastry sheet and brush edges with blended cornstarch and water. Fold left and right corners inwards, then bottom corner inwards. Roll pastry sheet to enclose filling. Just before serving, deep fry rolls in canola oil until well browned; drain on paper towel. Serve hot spring rolls with Vietnamese dipping sauce, lettuce & cucumber wedge.
4. To prepare sauce: combine garlic, chili paste, chili flakes, fish sauce, lime juice, water. Add sugar and stir until dissolved. Add grated carrot.
Yield
30 spring rolls
serving size
1 spring roll with 2 tsp sauce
nutritional analysis
Calories
150
Total Fat
8 g
Saturated Fat
2 g
Cholesterol
20 mg
Carbohydrates
15 g
Fiber
1 g
Sugars
2 g
Protein
4 g
Sodium
160 mg
Potassium
61 mg