Stir-Fried Broccoli, Red Peppers and Beef
This dish is a nutritious take on a Chinese classic.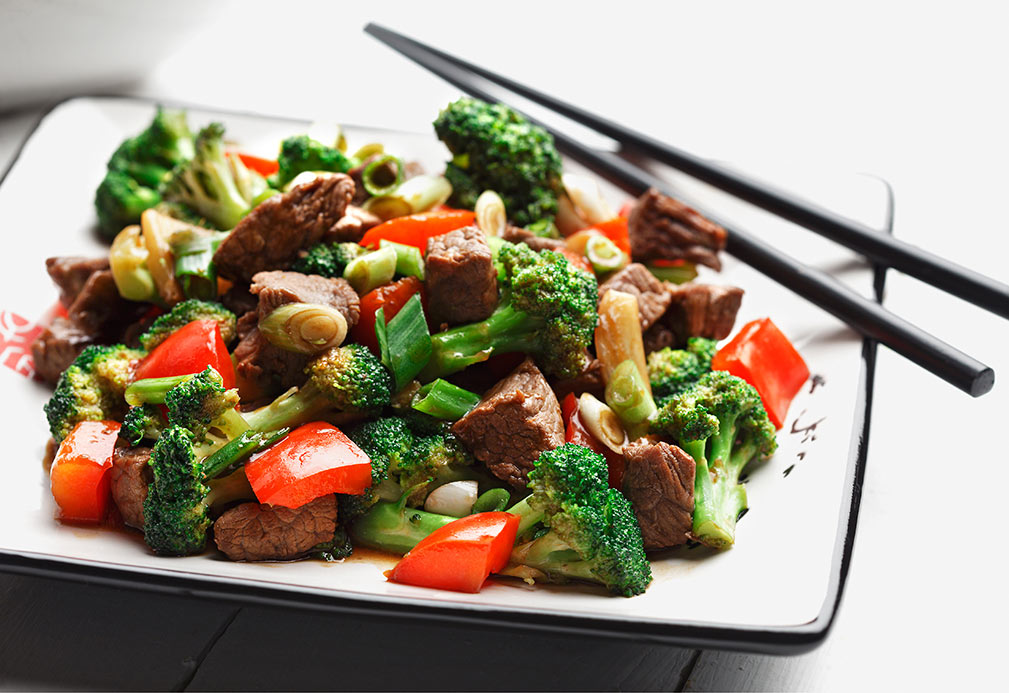 Ingredients
3/4 lb (350 g) top loin strip steak, cut into thin 1-inch strips
1 Tbsp sodium reduced soy sauce 30 mL
1 tsp cornstarch 5 mL
1 tsp dry sherry 5 mL
Garlic Ginger Sauce
1/4 cup low-sodium chicken broth 60 mL
1 tsp oyster sauce 5 mL
2 tsp cornstarch 10 mL
Vegetables
2 Tbsp canola oil, divided 30 mL
2 cloves garlic, sliced, divided
4 slices ginger, divided
3/4 lb (350 g) broccoli crowns, cut into 1/2-inch (1.25 cm) pieces
1/3 cup low-sodium chicken broth 75 mL
1 medium red bell pepper, stem and seeds removed, diced
2 stalks green onion, thinly sliced 
Instructions
1. In medium bowl, mix together beef, soy sauce, cornstarch and sherry. Marinate in refrigerator at least 30 minutes.
2. In small bowl, stir together sauce ingredients. Set aside.
3. In wok or heavy skillet, heat 1 Tbsp (15 mL) canola oil over medium-high heat. Add half of garlic and half of ginger and sauté until fragrant, about 30 seconds. Add beef and stir-fry about 1 to 2 minutes, or until half cooked. Scoop beef onto a plate. Set aside.
4. In wok or skillet, heat remaining 1 Tbsp (15 mL) canola oil over medium-high heat. Tip wok to coat bottom of pan with canola oil. Add remaining garlic and ginger. Stir-fry until fragrant, about 30 seconds. Add broccoli and sauté for 1 minute. Pour in broth and cover wok or skillet. Cook for 3 minutes or until tender crisp.
5. Remove lid and cook until most of liquid is evaporated. Add red peppers and cook for 1 minute. Add beef. Stir sauce, making sure cornstarch is dissolved, then add to beef mixture. Cook until sauce is thickened, about 2 minutes. Stir occasionally to coat meat and broccoli with sauce. Sprinkle in green onions and cook for another minute. Serve immediately.
Yield
4 servings
serving size
1 cup (250 mL)
nutritional analysis
Per Serving
Calories
210
Total Fat
10 g
Saturated Fat
1.5 g
Cholesterol
45 mg
Carbohydrates
10 g
Fiber
3 g
Protein
23 g
Sodium
400 mg