Strip Steak, Chile and Onion Tacos
The smokiness of chipotle chiles and freshness of green chiles combine to create the authentic flavor of Mexican cuisine.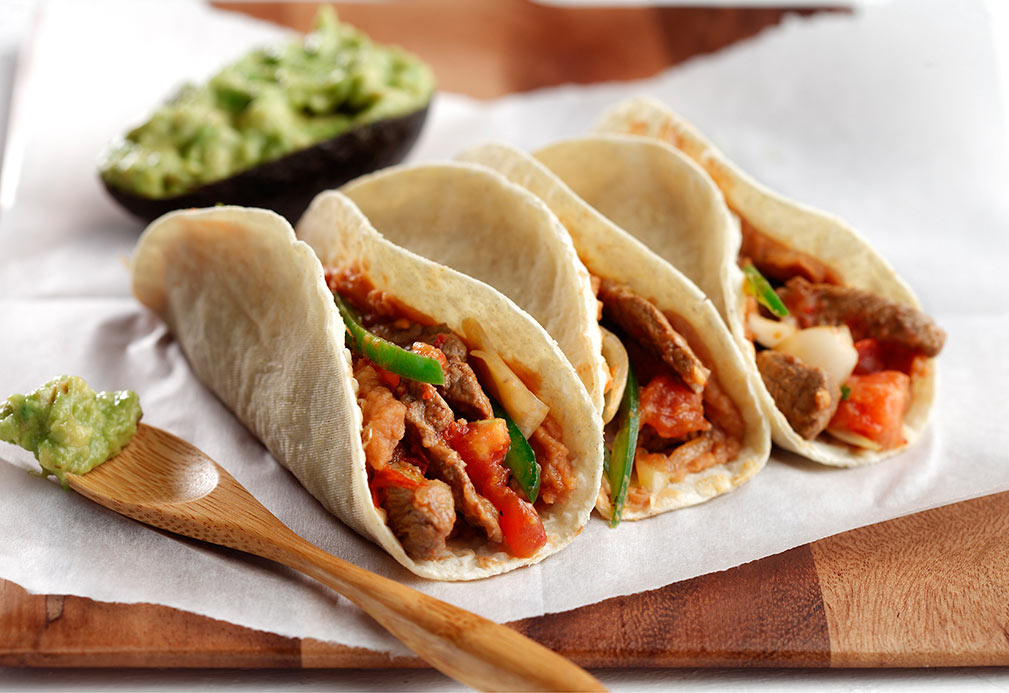 Ingredients
2 Tbsp canola oil 30 mL
1 clove garlic, chopped
1/2 onion, sliced into strips
4-5 top loin strip steaks, about 16 oz (500 g), sliced into strips
8 pearl or chambray onions 
3 tomatoes, chopped
2 chipotle chiles, chopped
1/2 tsp black pepper 2 mL
2 green chiles, sliced into strips
12 corn tortillas 
1 cup (about 1/2 can) fat-free refried beans 250 mL
Instructions
1. In sauté pan, heat canola oil over medium-high heat. Add garlic, sliced onion and beef and sauté 5 minutes or until beef reaches desired doneness. Add pearl onions, tomatoes and chipotle chiles. Add green chiles and season with pepper.
2. Warm tortillas, spread refried beans evenly on each, add sautéed mixture and fold into tacos. Serve with guacamole.
Yield
6 servings
serving size
2 tacos
nutritional analysis
Per Serving
Calories
340
Total Fat
9 g
Saturated Fat
1 g
Cholesterol
40 mg
Carbohydrates
42 g
Fiber
6 g
Protein
23 g
Sodium
350 mg