Stuffed Chicken Breast with Mushroom Wine Sauce
Serve this dish for your next special occasion.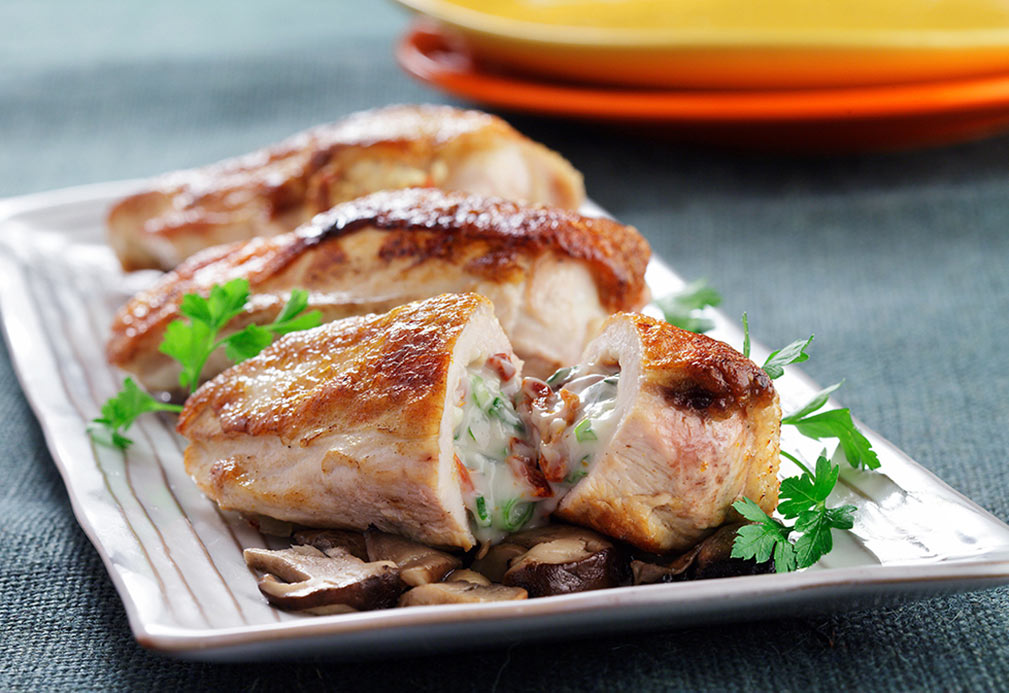 Ingredients
1/2 cup fresh reduced fat goat cheese 125 mL
2 green onions, thinly sliced
2 sprigs of thyme (stem discarded)
4 soft sundried tomatoes, julienned
1/2 tsp salt 2 mL
1/4 tsp freshly ground pepper 1 mL
4 boneless chicken breast halves, skin on
2 Tbsp canola oil 30 mL
Mushroom-Wine Sauce
1/2 lb fresh mushrooms (crimini, button) sliced 250 g
1 medium sweet onion, diced
1/3 cup chardonnay or dry Riesling wine 75 mL
1/3 cup low sodium chicken stock 75 mL
1/2 tsp salt 2 mL
1/4 tsp pepper 1 mL
Instructions
1. Preheat oven to 350 °F (180 °C). In a small bowl, combine cheese, green onion, thyme, and tomato. Season with salt and pepper.
2. Lay chicken breast on a cutting board, insert paring knife in the large end of the breast parallel to the table, make a sweeping motion with tip of knife to both sides of the breast but not through, this will create a cavity for stuffing, keep the opening where you inserted the knife small so less chance of the stuffing coming out.
3. Stuff cheese mixture through the opening into the large cavity you made, if you feel like inserting a toothpick to keep the hole closed there will be less chance of stuffing falling out. In a sauce pan, on medium heat add canola oil and heat, add chicken, skin side down and cook for 4 to 5 minutes or until golden brown. Turn chicken over and place pan in oven for approximately 20 minutes or 160 °F (7C °C) with an instant read thermometer at the thickest point. Remove from oven and take chicken out of pan; set aside.
4. For the sauce: In a saucepan on medium heat, saute onion for 3 minutes, add mushrooms and saute for an additional 4 minutes, pour in wine and scrape any brown bits off the pan to add flavor. Reduce for a minute then add stock. Top with chicken breast and cook for 4 minutes. Serve.
Yield
4 servings
serving size
1 serving
nutritional analysis
Per Serving
Calories
410
Total Fat
25 g
Saturated Fat
7 g
Cholesterol
110 mg
Carbohydrates
8 g
Fiber
2 g
Protein
36 g
Sodium
640 mg