Stuffed Poblano Peppers and Black Bean Sauce
Wow guests at your next dinner party with these impressive stuffed peppers, a lighter take on the traditional Mexican dish. Canola oil keeps the peppers from sticking to the grill and its high smoke point is perfect for sautéing the vegetables.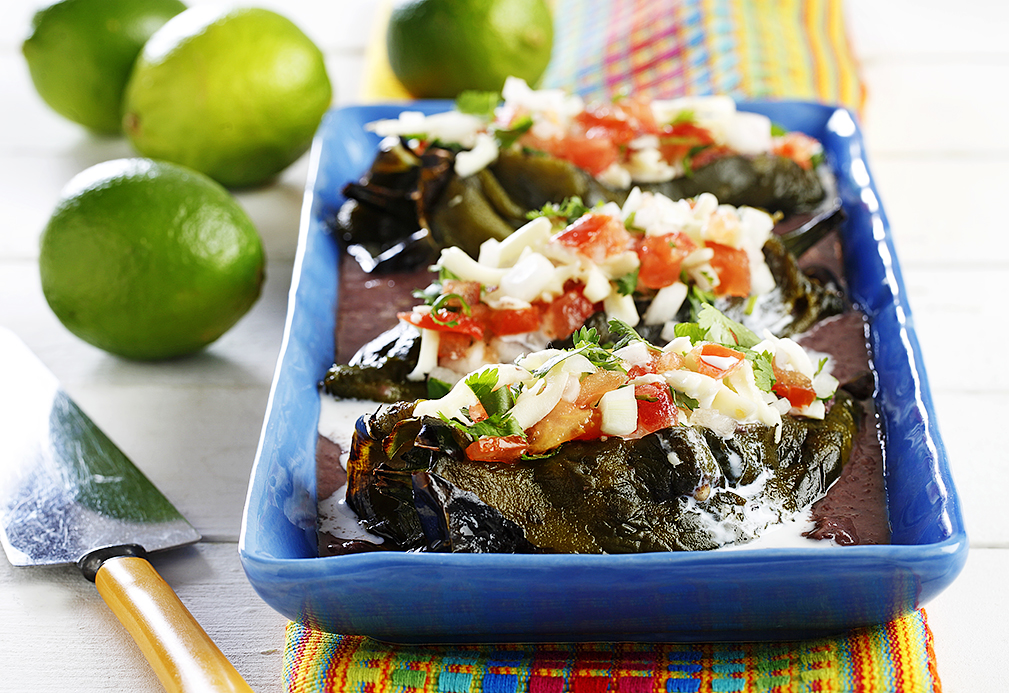 Ingredients
Ingredients:
canola oil for brushing the grill
4 poblano peppers
Black Bean Sauce
1 Tbsp canola oil 15 mL
2 garlic cloves, minced
2 Tbsp finely chopped onion 30 mL
1 tsp dried oregano 5 mL
1/2 tsp salt 2 mL
1 cup canned black beans, drained and rinsed 250 mL
1/2 cup water 125 mL
Stuffing
1 Tbsp finely chopped onion 15 mL
2 Roma tomatoes, seeded, diced small
1/2 lb Oaxaca or mozzarella cheese 250 g
1/4 cup chopped cilantro leaves 60 mL
1/4 tsp salt 1 mL
2 Tbsp 10% cream (half and half) 30 mL
Instructions
Instructions:
1. Preheat grill and brush with canola oil. Grill poblano peppers over direct flame until skin is black. Place in plastic bag. Wrap in towel and let stand 15 minutes. Remove from plastic bag and use knife to peel off black skin. Gently slice open pepper lengthwise from just below the cap 2/3rds of the way down, remove seeds and veins. Set aside to cool.
2. In skillet, heat 1 Tbsp (15 mL) canola oil and sauté garlic and onion. Season with oregano and salt and cook until onion is soft. Add black beans and water. Using emersion blender, process until sauce is smooth. Add additional water for desired consistency. Set aside.
3. In medium bowl, mix onion, tomatoes, cheese and cilantro and season with salt. Stuff poblano peppers with equal amounts of mixture.
4. To serve, spread 6 Tbsp (90 mL) black bean sauce on each plate and top with 1 stuffed pepper. Drizzle each pepper with 1/2 Tbsp (7 mL) cream. Serve immediately at room temperature.
Yield
4 servings.
serving size
1 stuffed pepper.
nutritional analysis
| | |
| --- | --- |
| Calories | 280 |