Taste of the Mediterranean Salad
A simple and refreshing side salad.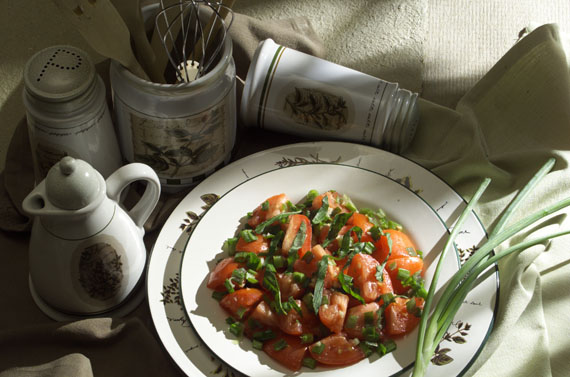 Ingredients
6 Roma tomatoes
2 green onions, sliced
1 clove garlic, crushed
1 Tbsp canola oil 15 mL
1 Tbsp balsamic vinegar 15 mL
1 Tbsp chopped fresh basil 15 mL
1/8 tsp sea salt or seasoning salt .5 mL
Instructions
1. Cut tomatoes into eighths. Toss tomatoes in a medium size serving bowl with onions, garlic, canola oil, vinegar, basil and salt.
Yield
4 servings
serving size
nutritional analysis
Per Serving
Calories
50
Total Fat
4 g
Saturated Fat
0 g
Cholesterol
0 mg
Carbohydrates
5 g
Fiber
1 g
Protein
1 g
Sodium
80 mg
Potassium
251 mg