Tofu Stir-Fry
Marinating the tofu adds flavor to this tasty vegetarian dish. Canola oil's high smoke point makes it perfect for high-heat stir-fries. Serve over brown rice.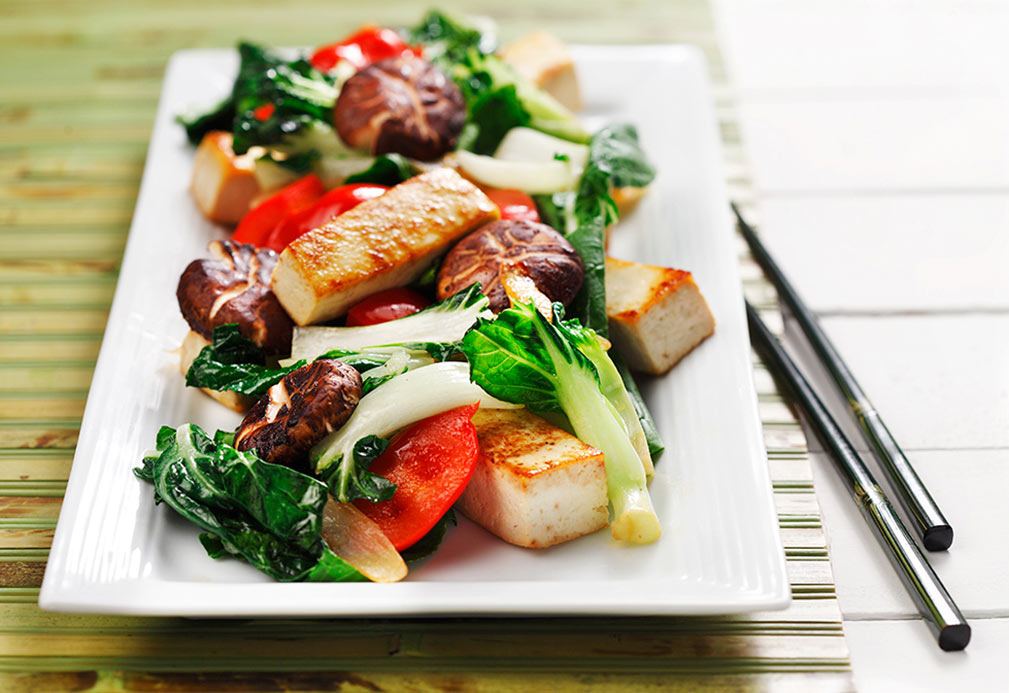 Ingredients
Marinade
1 Tbsp low sodium soy sauce 15 mL
1 Tbsp rice vinegar 15 mL
2 tsp canola oil 10 mL
3 Tbsp lime juice 45 mL
1 Tbsp honey 15 mL
1 tsp onion powder 5 mL 
Stir-fry
1 lb (500 g) firm tofu, well drained, patted dry and cut into 12 rectangles
1 Tbsp canola oil 15 mL
2 small onions, cut into wedges
1 large red bell pepper, seeds removed, cut into 1-inch (2.5 cm) squares
4 mini bok choy, stems and greens separated
1 Tbsp minced fresh ginger 15 mL
2 garlic cloves, minced
2 cups Shiitake mushrooms 500 mL
Instructions
1. In bowl, whisk together soy sauce, vinegar, canola oil, lime juice, honey and onion powder. Incorporate tofu and marinate 15 minutes (reserve marinade).
2. In wok, heat canola oil over medium-high heat. Cook tofu until golden, about 2 minutes per side. Set tofu aside.
3. In same wok, stirring constantly, cook onions until browned, 3-5 minutes. Add bell pepper, bok choy stems, ginger and garlic; cook 3 minutes. Add mushroom; cook 2 minutes. Add bok choy greens, reserved marinade and tofu; cook 2 minutes. Serve immediately.
Yield
6 servings
serving size
1 cup (250 mL)
nutritional analysis
Per Serving
Calories
200
Total Fat
8 g
Saturated Fat
1 g
Cholesterol
0 mg
Carbohydrates
25 g
Fiber
3 g
Protein
10 g
Sodium
70 mg