Traditional Pan-Fried Trout
When fresh trout is in season, this mild-tasting fish offers great variety from the usual fish selection and it's a good source of heart-healthy omega-3 fats.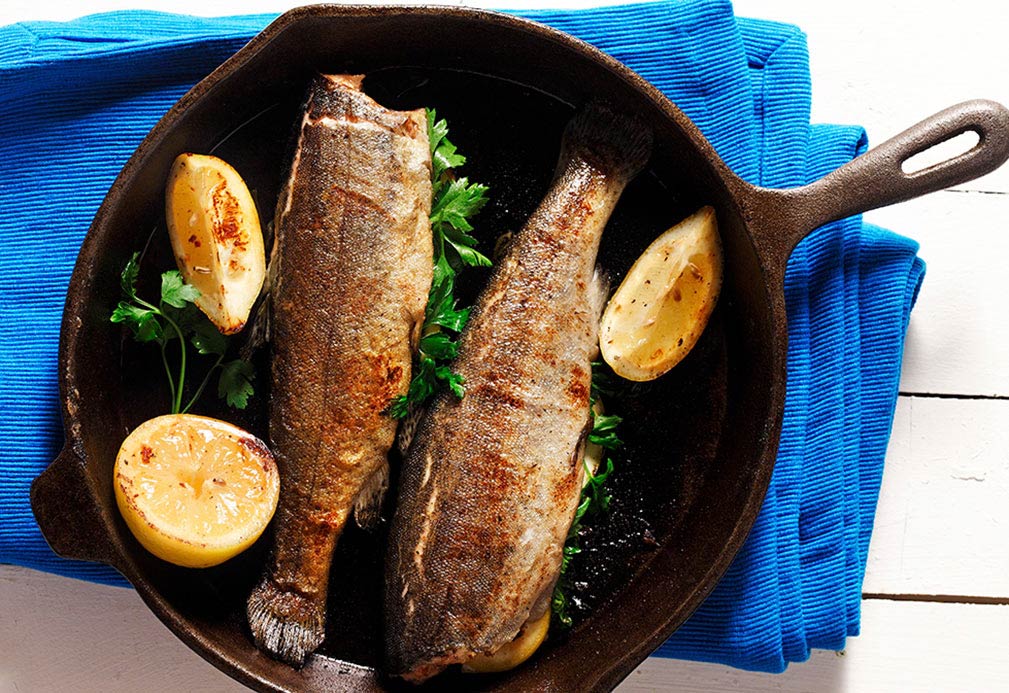 Ingredients
2 lb lbs whole fresh trout fillets 1 kg
2 Tbsp whole wheat or all-purpose flour 30 mL
1/4 tsp freshly ground pepper 1 2 mL
2 Tbsp milk 30 mL
2 Tbsp canola oil 30 mL
lemon and parsley, optional garnishes 
Instructions
1. On a plate, mix flour with pepper for dredging the fish.
2. Place milk in bowl, dip trout in milk and then place on plate to coat with flour on both sides.
3. In large saucepan, heat canola oil to medium-high. Place fish in pan and fry for approximately 4-5 minutes per side or until golden brown.
4. Allow fish to stand in pan for about 10 minutes before slicing and serving. Garnish with a wedge of lemon and serve with baked potatoes and steamed vegetables, if desired. 
Yield
6 servings
serving size
4 oz / 125 g fish
nutritional analysis
Per Serving
Calories
230
Total Fat
10 g
Saturated Fat
1.5 g
Cholesterol
90 mg
Carbohydrates
2 g
Fiber
0 g
Sugars
0 g
Protein
31 g
Sodium
50 mg
Potassium
736 mg