Turkey and Plantain Stuffed Poblano Chiles
Ground turkey provides a base for a robust dish that's layered with flavors: fresh and dried herbs, spices and the gentle heat of poblanos. Heart-healthy canola oil's neutral taste lets these tastes come to the fore.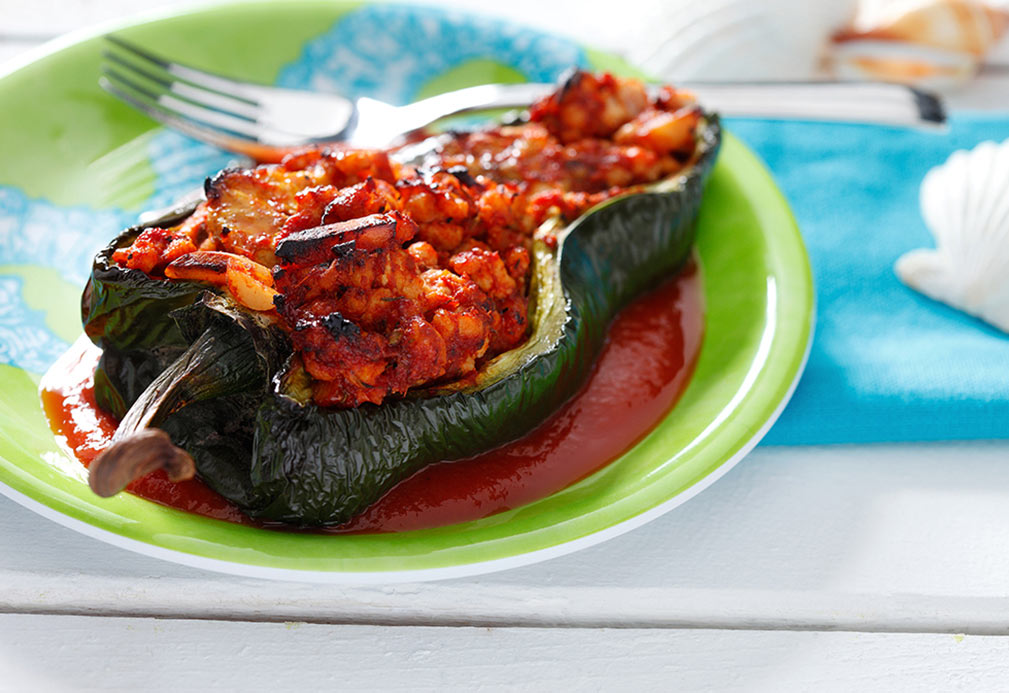 Ingredients
Filling
1 Tbsp canola oil 15 mL
2 shallots, finely chopped
1 clove garlic, finely chopped
3/4 lb ground turkey breast 350 g
1/4 cup slivered almonds 60 mL
2 ripe plantains, sliced
2 cans (5.5 oz/156 mL) tomato paste, unsalted
1 tsp freshly ground pepper 5 mL
1 tsp dried oregano 5 mL
1 tsp fresh thyme 5 mL
1 tsp cumin powder 5 mL
2 tsp fresh dill, finely chopped 10 mL
1/2 cup semi-sweet cooking white wine 125mL
1 can (14 oz/398 mL) tomato sauce, unsalted
4 poblano chiles, cut in half lengthwise and seeded
Instructions
1. Preheat oven to 350 °F (180 °C).
2. In large sauté pan over medium heat, sauté canola oil and shallots until they turn transparent, add garlic and sauté briefly without allowing it to burn.
3. Add turkey and mix until incorporated and meat is cooked.
4. Add almonds and plantains. Add tomato paste, pepper, oregano, thyme, cumin and dill.
5. Add white wine, mix and simmer for 1 minute until sauce has thickened. Remove from heat and reserve. Stuff mixture into poblano chiles. Bake on foil-lined baking sheet for 25 minutes.
6. To serve, heat tomato sauce and place 3 Tbsp (45 mL) of it on each plate with one chile on top of sauce.
Yield
4 servings
serving size
1 chile with 3 Tbsp (45 mL) filling and 2 Tbsp (30 mL) sauce
nutritional analysis
Per Serving
Calories
380
Total Fat
10 g
Saturated Fat
2 g
Cholesterol
50 mg
Carbohydrates
58 g
Fiber
8 g
Sugars
28 g
Protein
24 g
Sodium
440 mg
Potassium
1470 mg