Vegetarian Greek Pizza Flatbread & Spinach Sauté
Quick and flavorful, this flatbread is topped with nutritious veggies and classic Greek ingredients such as feta and olives. Canola oil's high heat tolerance stands up well to sautéing and baking, plus its neutral taste lets the recipe's fresh and vibrant flavors shine. Garlicky spinach on the side rounds out the meal.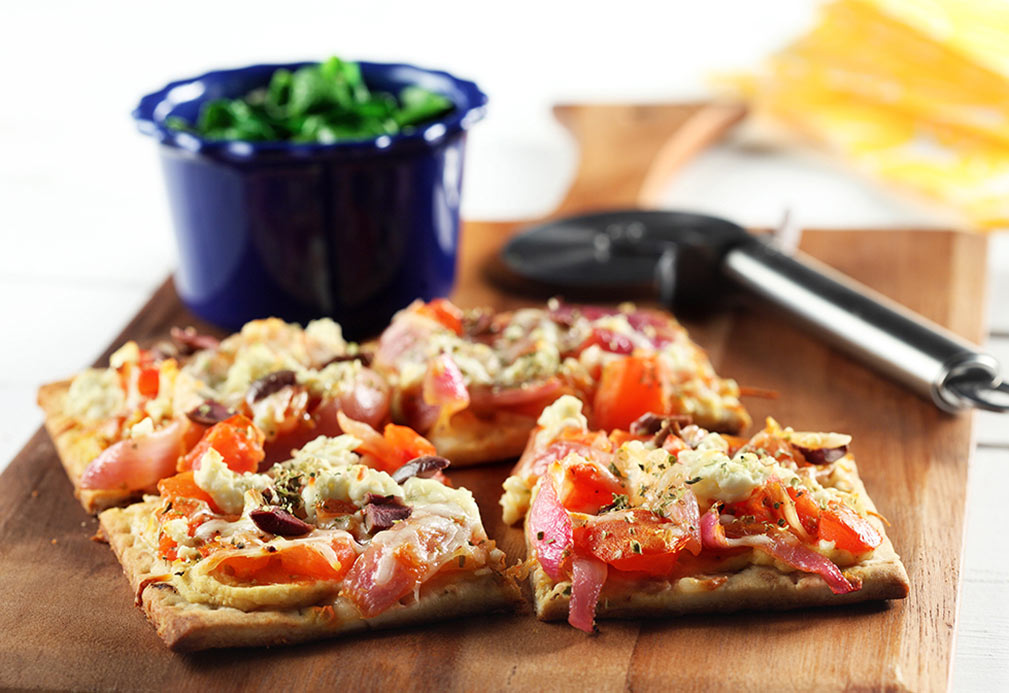 Ingredients
1 Tbsp canola oil 15 mL
2 to 3 cloves garlic, finely chopped
1 small (or 1/2 large) red onion, sliced in half moons
3 medium tomatoes, diced
2 whole wheat sandwich thins or flatbread or deli flats
canola oil cooking spray
1/4 cup original flavor hummus 60 mL
2 Tbsp reduced fat feta, crumbled 30 mL
1/4 cup shredded reduced fat mozzarella 60 mL
6 pitted Kalamata olives, chopped
1/4 to 1/2 tsp oregano 1 to 2 mL
Spinach Sauté Recipe
1 Tbsp canola oil 15 mL
2 cloves garlic, minced
4 large handfuls baby spinach, rinsed and pat dry 2 cups (500 mL)
Instructions
1. Preheat oven to 350 °F (180 °C). 
2. In a medium sauté pan heat canola oil over medium flame. Add garlic and onion and sauté 1 to 2 minutes. Add tomatoes and sauté another 5 minutes; set aside.
3. Separate sandwich thins into 4 halves, lightly coat each side with cooking spray, place on baking sheet and bake 15 minutes, turning once halfway through.
4. To serve, divide ingredients equally between the 4 halves of the sandwich thin. Spread hummus on each toasted sandwich thin and top with tomatoes, mozzarella, feta and olives. Sprinkle with oregano and broil about 5 minutes until cheese is melted. Serve with a side of Spinach Saute (recipe below)
5. To make Spinach Sauté:  In a large sauté pan heat canola oil over medium-high flame. Add garlic and sauté 2 to 3 minutes. Add spinach, one handful at a time, stirring frequently. Continue adding spinach as space becomes available in pan and cook until wilted, about 8 to 10 minutes.
Yield
4 servings
serving size
1 sandwich thin or flatbread and 1/4 cup (60 mL) Spinach Sauté
nutritional analysis
Per Serving
Calories
200
Total Fat
11 g
Saturated Fat
1.5 g
Cholesterol
5 mg
Carbohydrates
18 g
Fiber
1 g
Sugars
4 g
Protein
6 g
Sodium
380 mg
Potassium
61 mg